FO Prosperous Plum!
Here's my finished Prosperous Plum, from the front: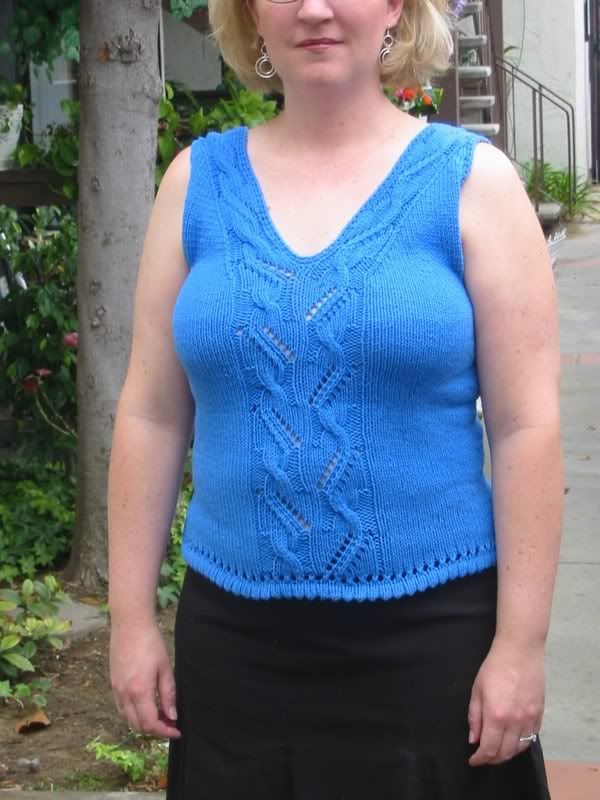 and from the back:
Overall, I'm really happy with it. The way I did the waist increases and decreases makes it kind of unflattering. I really should have made the narrowest part of it higher up. I think that's why its tight in the middle.
Details:
Pattern: Prosperous Plum Tank
Yarn: Valeria di Roma Topacio (60% cotton/40% acrylic blend), purchased at the Yarn Lady bag sale last year, 5 balls. It is discontinued.
Needles: Size 7 addi turbos
Modifications: I chose not to knit the hem up; instead, I tacked it down at the end. I used a different gauge yarn so I had to make a different size. I changed the rate of the waist increases and decreases, although I don't really like how that part turned out. Instead of grafting the straps together, I did a 3-needle bind-off. I lengthened it by about 2 inches. Oh, and instead of doing crab stitch, I did 2 rounds of single crochet. I think that's everything. That's all I can remember right now.
Overall thoughts about the pattern: I like this pattern. Its really pretty when it's done and it has a lot of design elements without being too much. This is the second time I've made this tank and I feel that, for the most part, my modifications made it a better fit for me.
My favorite thing about it is that I had sort of an awkward amount of this yarn, but I ended up being able to make something out of it. I've already worn in 3 times!
Labels: prosperous plum tank