Progress
Well, I'm not working on Wicked. I quickly realized that Wicked calls for a worsted weight yarn, and Cotton Fleece is a little fine for that purpose. The yarn is lovely, though, and will make a nice Sahara for the spring. I decided instead to cast on using Bubblegum Cotton-Ease on a size 8 needle (which was the needle required to get gauge). The twisted ribs at the neckline ended up looking really sloppy and gross and the color was just too bright so I ripped it out and decided to get back to it another day using a different yarn.
I'm on quite a tight budget right now, so rather than buy more yarn, I cast on for a new project with yarn from my stash. Ages ago, I made a very expensive purchase of Lorna's Laces Shepherd Worsted to make the Twisted Float shrug from the Fall 2005 VK. Over time, I lost my enthusiasm for the project, so instead, I'm using it for the Hourglass sweater. I had quite a few trials and tribulations while starting. First, I ran out of yarn during my long tail cast on after casting on 180 stitches. Rip. Then I cast on the right number, but found I was twisted after one round. Rip. Then I cast on the right number, wasn't twisted, and knit furiously for 5 inches. Whoops, I cast on for the wrong size. Rip. Ugh! I really like this yarn, though, so I soldiered on again, cast on the right number, and knit the body: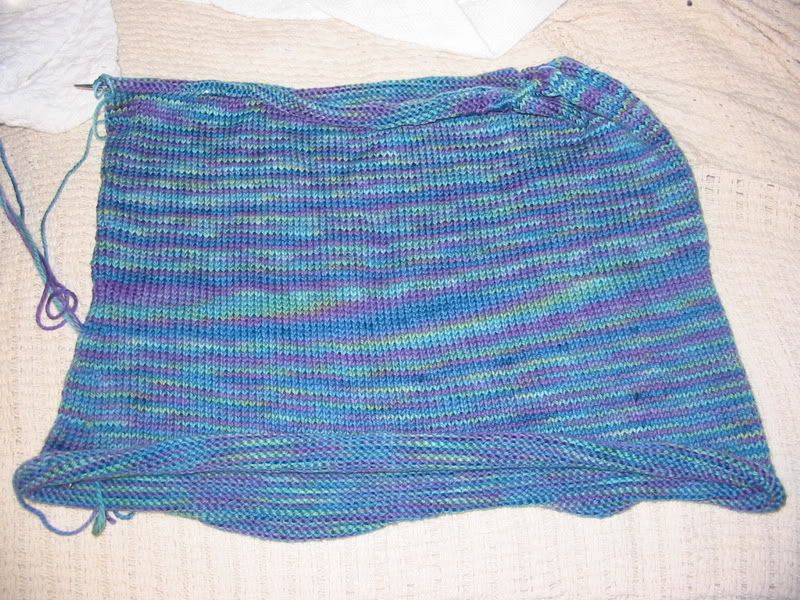 The decreases at the waist caused a little pooling, but despite that, I think this yarn is really well suited to the project. For a variegated yarn, it's not too busy. It's oh so soft, too.
I also seamed up Hudson, my Big Kureyon sweater. Now I just have to measure for a zipper and choose a color. It should be done soon. Oh, and the best part? It fits!