2 New Christmas FO's
This weekend was spent mostly knitting for others, but it was worth it because I finished two Christmas gifts. These were the most time critical because they have to be mailed to Chicago. Here's a hat for my father-in-law, with Monkey as a model:
Here are the stats:
Pattern: my own (colors picked out by myself, Cora and various customers at Lori's Frames, Fibers and Frills)
Yarn: Mission Falls 1824 superwash wool
Date started: 12/8/06
Date completed: 12/10/06
Needles: Size 6 16" addi turbos
I spent about an hour picking out the colors for this hat, but I'm really happy with my final choices. It was fun laying everything out on the table and playing with color combos. I spent the entire afternoon on Friday up at Lori's hanging out with Cora while she worked, and it was a nice relaxing way to spend the day after I turned in the "final from hell".
It also turns out that I was coming down with a cold that day (not surprising considering all of the stress I had been under). So, I had to bail on Rebecca's on Saturday because by then I had body aches and I was really beat. I'm mostly just stuffy and coughing now and I'm still a little tired. No rest, though, because I'm still working on final exams.
Anyway, here's the second FO from the weekend: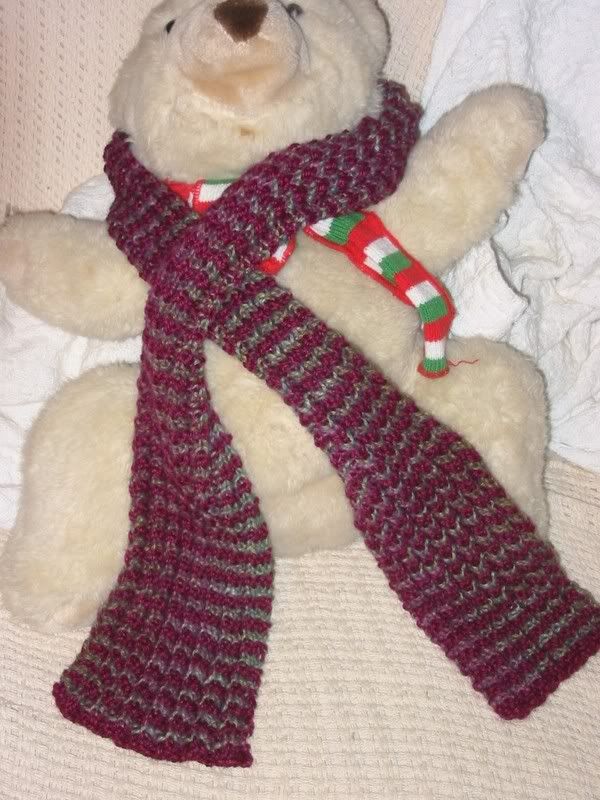 It's a scarf for my mother-in-law. Here are the stats:
Pattern: Child's Rainbow Scarf from Last Minute Knitted Gifts, modified for an adult size
Yarn: Diakeito Diaparterre, 50% alpaca/50% acrylic and Paca de Seda, an 80% alpaca/20% silk yarn from The Alpaca Yarn Company
Needles: Size 9 24" Susan Bates circulars
I started this scarf a while ago and then put it down for a long time, so I don't know exactly when I started it. I absolutely love it! I want to keep it because it's so pretty and really super soft. I hope mom-in-law likes it.
I'm going to go blow my nose now. Hope your Christmas knitting is coming along.