An Uncluttered Life
Getting rid of all of the clutter in my life is something that I've wanted to do for a while now. To me, it's simpler to have less stuff. I've had people to tell me that I need to simply get a bigger home, but it seems to be that this isn't the answer. Although small, my home is already larger than what most people in New York or Boston have, so certainly, I can make do.
On Saturday, since it was raining, it seemed like a good day to stay indoors and get some stuff done around the house. So, I began the difficult chore of shoveling out our den. Before I began, there was dust, cat hair and piles of crap everywhere. My desk was an avalanche of papers and junk and there was knitting stuff on every surface, including the floor. Yarn, needles, notions, half-finished projects - you name it.
After about 8 hours of organizing and getting rid of stuff, I now have this:
The best part is that everything is actually put away in a way that I think it can stay that way. That is what has eluded me in the past.
I also have started a new sweater project. It's an original design, although since it's so plain, it can hardly be called original. However, it is all mine. It's a sweater that I've had in my head for years it seems, so I thought I'd finally knit it. I've had the yarn about as long as I've had the idea brewing as well - it's Rowanspun Aran in a really dark tweedy blue. I love the green specks.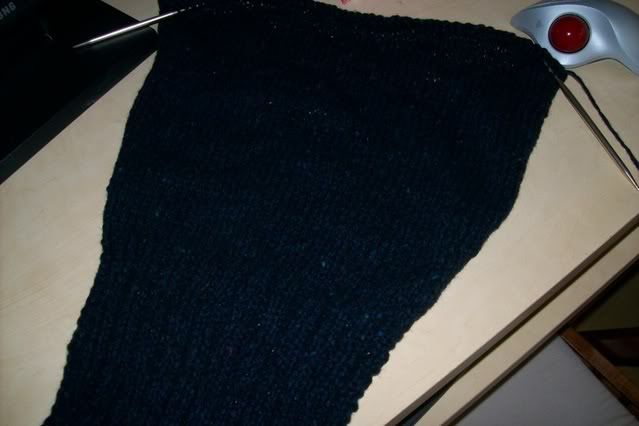 This is the sleeve. When this photo was in my camera, I could see the stitches and the tweedy bits, but on my computer screen, it's a dark blob. Hopefully, you can see it better than I can. I designed the sleeve cap last night, so I'm going to finish knitting it tonight and as soon as I have time, I'm going to set it in to see if it fits in the armhole. I call this project Julian because it is the kind of sweater I would wear for a day in the mountains. It's soft, cozy and slightly oversized for a casual look. I think I'm going to be happy with it.
Labels: Julian