Is it the Weekend Yet?
Whew! It's only Wednesday and I feel like I've lived a lifetime already this week! I'm really tired from working too hard, being stressed and being pulled in a million directions. But the good news is that the class part of school is done for me forever! No more sitting in class, no more homework assignments, no more class presentations! It's kind of a strange feeling, but it's a good one all the same. All that stands in the way between me and my degree is my thesis. Unfortunately, it's a pretty large obstacle.
Moving on to Christmas, my gifts are reasonably on track. I was going to sew my father-in-law a robe, but the only pocket of time I had to do it was on Friday night after a long, stressful day. I dragged all of my sewing stuff to my parents' place since they have a large work surface. I had a little trouble sewing the pockets on straight, but other than that, things were going fairly well. I was sewing up the sides and the sleeves (simple, straight seaming), so I was in the home stretch. It was only then that I realized that I'd sewed the long edge of the sleeve into the armhole instead of the sleeve cap! Gee, I was wondering why I was having such a hard time setting it in. Well, I guess it was good practice for setting in sleeves! Since it was double stitched, pulling it out was a nightmare, and since I'd already trimmed the seam, I didn't know how to fit the correct edges together, i.e. i couldn't line them up evenly. Plus, tearing out the stitches damaged and weakened the fabric. Needless to say, it was hopeless, and I was extremely frustrated by the whole experience. If I hadn't been rushing, I'm sure things would have turned out differently.
However, my mother in law's scarf turned out well. It's on its way to Chicago as we speak. Here it is with the handmade gift tag that
the Nut Graf
made for me: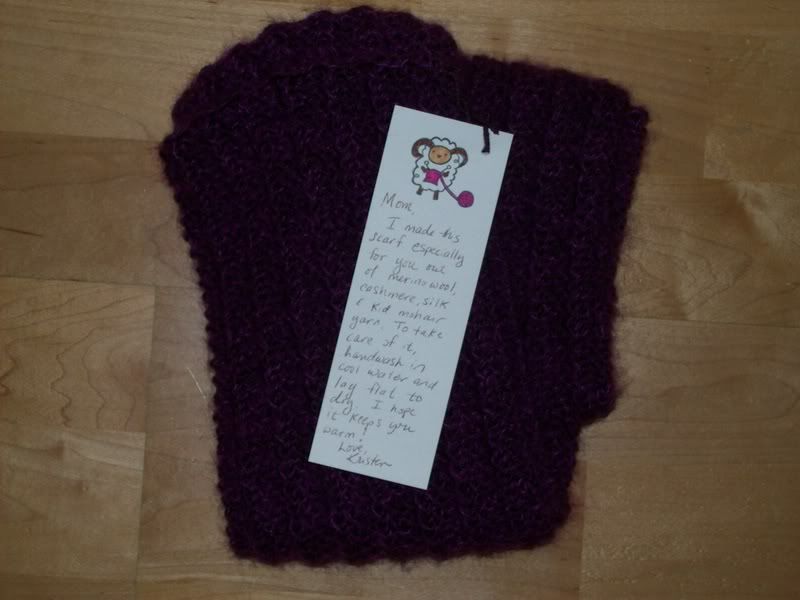 I also wanted to take a photo in natural light so you can see the actual color and the effect of the two strands together:
I used a sport weight merino/cashmere/silk blend yarn held together with Rowan Kidsilk Haze and I really liked the effect. The stitch pattern is the Yarn Harlot's one row scarf, which produces a reversible, pretty scarf that doesn't curl or roll or anything.
Regarding the FO flashing, my crazy, stressful life has interfered on that front. With the exception of two days, I kept going with it, but didn't take pictures. I figure, once I have some time, I can just take a bunch of photos of what I wore in one day so you can at least see the FO's. However, on Monday, when getting dressed and basic hygiene even took too much time away from working on my final projects, I grabbed what was clean and happened to, at the same time, matched the pants I grabbed. Therefore, I wore an FO I'd already worn this month (Sam). Today, since the weather outside is frightful, I'm wearing Banff again because it's cozy and nothing that I have left in the line up is warm enough (except for Starsky, which doesn't have buttons yet).
I have to say that this FO flashing has gotten me off my butt to finish odds and ends on sweaters that needed to be done. I sewed in a zipper I'd been neglecting on Sam (photo coming soon), I finished the collar on Starsky (to be worn probably tomorrow) and I completed the finishing touches on my Somewhat Cowl and wore it yesterday (photo soon). That is enough to make me very glad I have been doing this.
Labels: flash FO's