They Call This Summer?
I'm writing to you from a 9-day "vacation" in New England. It started with 5 days in Rhode Island, attending various pre-wedding events and culminating with a wedding at the Towers in Narragansett. The building sits on the sand and looks out onto the ocean. It was a lovely wedding and I had a really great time. I decided to boondoggle 4 days in Boston before heading back home and that's where I am now. The weather is very fall-ish and not at all of what I'd expect for August. I've heard that San Diego is sweltering, thought, so I guess I'm glad not to be there at the moment.
I did finish two projects for my trip - the Lutea Lace Shouldered Shell from the Summer Interweave and the layered Barcelona Skirt by Amy Butler.
I knitted the shell out of Vanilla Cotton-Ease (the old stuff) and made a 38" bust even though as I remember, the pattern didn't come in a 38". I cast on a number of stitches between the size smaller and the size larger and then just made adjustments when it came time to do the shoulders. I made the skirt out of fabric purchased at Rosie's Calico Cupboard in El Cajon, CA.
Here's a close-up of the layering of the skirt:
Since I've been here, I've visited 5 fabric stores and only one yarn store, if you can believe it. As expected, the fabric stores here are far superior to the ones in San Diego so I've been having fun. I've kept with discount/remnant type places, so I haven't spent a ton of money.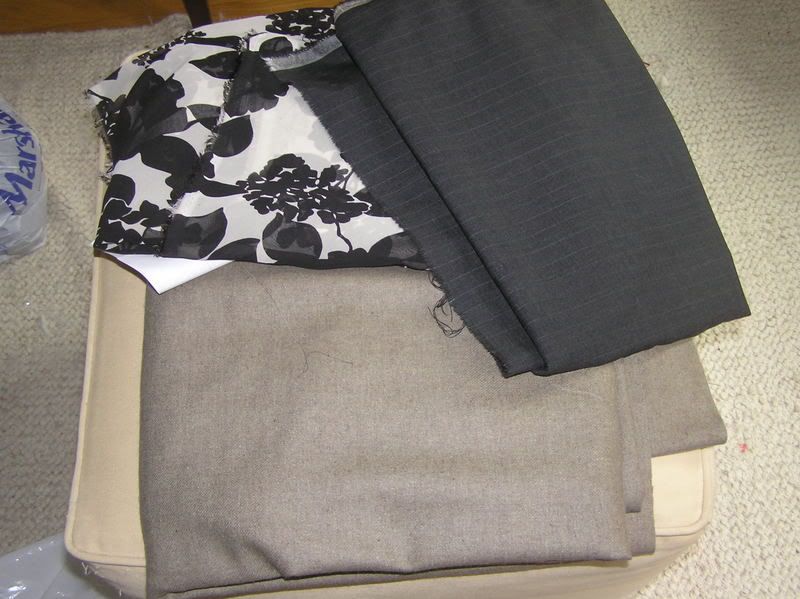 The fabric in the lower part of the photo was purchased at Winmill fabrics in Boston's Chinatown. It's a remnant of wool/cashmere/silk fabric that was 60" wide and $7 per yard. The print fabric was purchased at The Fabric Place in Warwick, RI and it was $7 per yard. It's a polyester silk-type fabric. The pinstripe piece was also a remnant. It is 100% wool and was $7.98 per yard.
These fabrics were both purchased in the Somerville/Lechmere area of Boston. One is a 100% cotton fabric and the other is a beautiful piece of chocolate-colored wool suiting. The wool was $5 per yard at Sew-fisticated Fabrics! I couldn't believe it. The cotton is 60" wide and was $3.99 per yard at Sew-Low Discount Fabrics.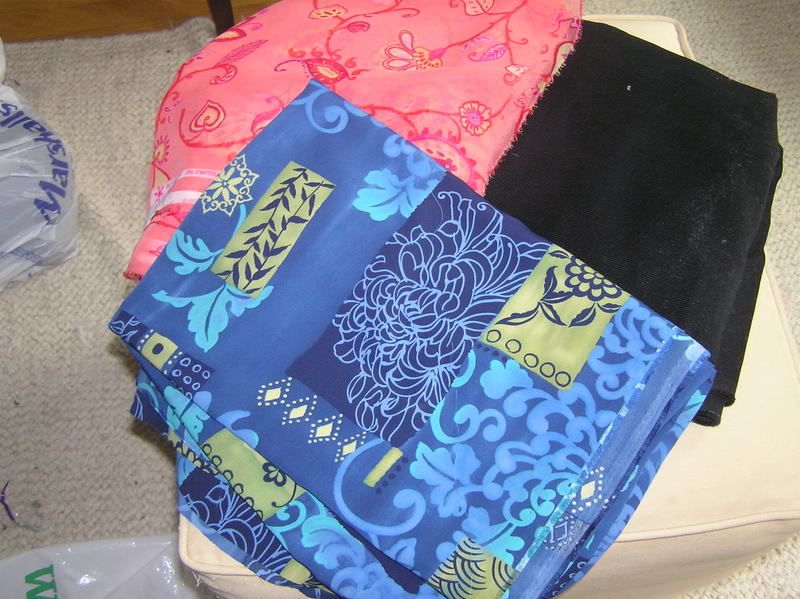 These fabrics were purchased at Lorraine Fabrics in Pawtucket, RI. This was a pretty amazing place. It reminded me of Michael Levine's minus the quilting cottons. They had tons of silk, a good amount of linen, wool, silk-type, flannel and all kinds of other fabric. They also had something called "The Loft" upstairs where I was able to get a piece of black courdoroy for $4 for 2 yards. The silk fabrics were $7 per yard. There was so much there that I got completely overwhelmed and dazed. The store was in an old mill so there was a lot of room to cram in lots of stuff.
I spent the first 5 days of the trip with my neice, so I got loads of adorable photos of her. Here's is her first experience at the beach eating her first Dell's Lemonade (local RI favorite).