Amy Butler Laundry Bag
I have a finished sewing object for your viewing pleasure, today. I'm quite proud of it actually. One of the things I'm most proud of is actually finding a use for this fabric. I love the fabrics, love the colors, etc, but felt it was a little much to make clothes out of. When I realized that I had enough to make this bag - which requires quite a lot of fabric- I got really excited about making it. Anyway, here it is: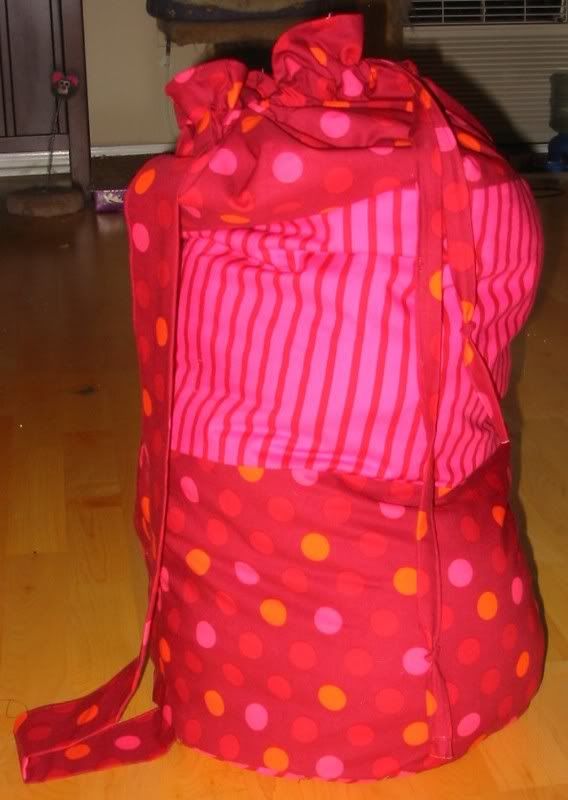 For those of you who can't view photobucket stuff, here's another format:
The pattern is from Amy Butler's book
In Stitches
. I really liked the pattern, although it was A LOT of work. Totally worth it in the end. I learned new things like making buttonholes and making a drawstring out of fabric. It's not perfect, but only the gods are perfect, right? I love it and I think it's almost too nice to put nasty laundry in. However, I'm not one to make things that have no use, so I've already put some laundry in it, including fabric to wash for my
next projec
t.
I'll me making the view that the model is wearing out of a piece of remnant fabric I bought at Discount Fabrics in Normal Heights. By the way, for you local sewers, I did visit both of the fabric stores in Normal Heights and will review them at some point later this week.
Labels: sewing