Long Trip=Almost FO
When I decided I would start Picovoli to work on during my trip, I never dreamed I'd actually come close to finishing it on the trip. However, if I hadn't been completely exhausted and full of wine on the trip home, I would have cast off. Instead, I sat slumped in my seat trying to sleep through several hours or turbulence.
After I was done unpacking from my trip and getting ready for my first day of school today (bleh) I finally got around to casting it off and trying it on for the first time (I know, bad). But, I got lucky and it fits great! All I need to do is sew the hems in place around the neckline, the bottom edge and the armholes.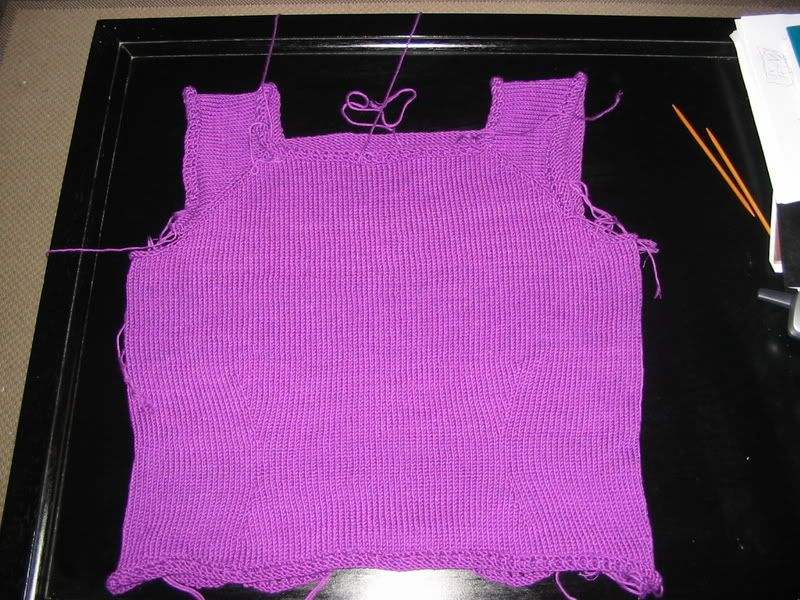 I'm using Debbie Bliss Cathay that I got from elann.com last summer.
The only reason I got as far on this as I did on my trip was because I was so pooped from the RI portion of my trip that I did a lot of sitting and knitting during the Boston portion. Anyway, I'm hoping to having FO photos very soon.
Also, I neglected to mention in my last post that I finally got my Ravelry invitation. My username is knitzalot,
so come on over and say hi
! I've only got a few things up, so it's a work in progress at this point.