LA Garment District Trip
I took today to drive up to Los Angeles, which is about a 2 1/2 hour drive from here, to check out the Fashion District there. Unfortunately, if you're into crafting in San Diego, it's really difficult to get what you need here, whether it's yarn, fabric, or anything for that matter. It's one of those things I've never been able to figure out. What's weird is that this is a huge city! Depending upon what article you read, San Diego is the 5th largest city in the country. At worst, it's the 8th largest. If you live here or have spent any significant time here, you know that San Diego feels a lot more like a small town than a large, bustling urban area. It is the strangest thing, and how we do it, I don't know. In most cases, it's a good thing, but when it comes to shopping, it's terrible! Literally, the only fabric store we have is Joann Fabrics. Well, we have Yardage Town, too, but the amount of polyester in that store can make you itch just looking at it. So, this is what led to me driving to Los Angeles to do a little shopping.
Let me just say that it was completely overwhelming. I felt like I'd just got off the bus from some backwater town and was in the city for the first time. I walked into Michael Levine's on Maple Ave., and I just stood there with my mouth hanging open. It wasn't just that they had a lot of stuff. Heck, Yardage Town has a lot of stuff. They had a tremendous amount of really, really gorgeous, natural fiber fabric. They had silk, cotton, courdoroy, wool, linen and everything else you could possibly think of. They had brocade, voile, crepe, chiffon, shirting imported from Europe, etc. There wasn't anything that couldn't be found there. They had some polyester, but it was completely outnumbered by the good stuff. I just wandered around, unsure what to do. I mean, until today, I'd never even seen most of this stuff. I just touched and fondled for about 2 hours. In addition to the main store, they have The Loft which is a room where all of the fabric is $2/pound. That's incredibly dirt cheap. Although I wasn't as in awe of the Loft, I still found a few things.
This is just one store, people. There were several city blocks with about 15 stores on each one. Michael Levine's was the only store I had time to visit in the Fashion District. I did make time to go to a shop in West LA called F & S Fabrics. Wow. Much, much pricier than Michael Levine's, but the selection was amazing. The first room that you walk into didn't have anything in it for less than $90/yard. Luckily, the back rooms had more reasonably priced stuff. However, even for things you can actually get here in San Diego, their prices were about $1 per yard higher up there than down here (this tends to hold for yarn prices as well, FYI). I was in there for at least an hour as well, just stumbling around unsure what, if anything, I should buy. I went up there completely unprepared because I wasn't sure what to expect. Anyway, here are some photos of what I got:
The fabric on the left is a cotton/silk voile fabric that is absolutely gorgeous. It's imported from Italy and was $20 per yard at F & S Fabrics. It was my splurge of the day. I will not be using it for quite some time since I don't yet have the skills.
The fabric in the center is a cotton chambray fabric that is super soft and light. I figure someday it will be a blouse, but again, not anytime soon. It was $8 per yard at F & S Fabrics.
The fabric on the right is a cotton lawn fabric from Robert Kaufman that I got at Michael Levine for $7.75 per yard.
The next two photos are of stuff I found at the Loft: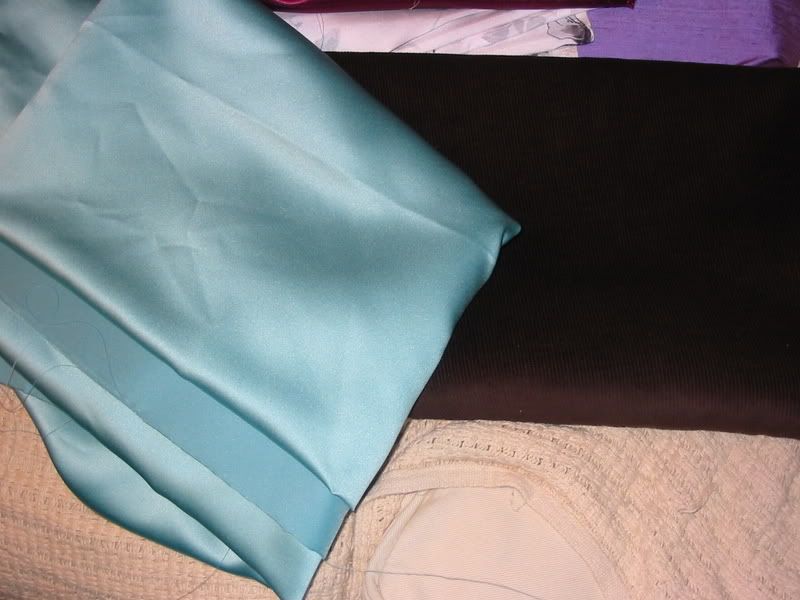 The left fabric is (probably) a polyester satin and the fabric on the right is a lovely espresso corduroy that will no doubt become a great skirt to wear with boots.
I don't know for sure what type of fabric this is, but if it's not silk, it's a very good imitation. Anyway, the total cost for these three fabrics was $6. Yeah, that's the Loft for you.
Today, that main store was running a sale on silk fabric for $7 per yard. It seemed like a good price until I saw that F & S Fabrics charged $150 for silk, so it's a ggggrrrreeeat price. I got this: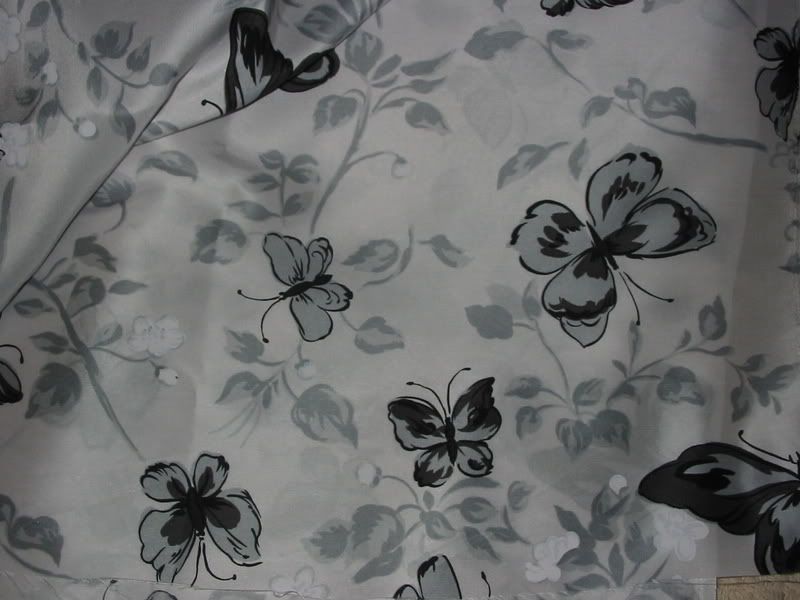 I have a pattern for a little wrap blouse that I thought would be cute in this.
I finally broke down and bought dupioni silk for a project to be named later. It was $7 per yard. At Joann's similar fabric is $29 per yard and up, so I guess I did well here:
I think that about sums it up. Today was very damaging to my pocketbook, but really, really fun. The traffic was minimal, so the drive was actually enjoyable. The Fashion District is in an icky part of downtown LA, but that's not really a surprise. All in all, it's so worth going there that it's almost pointless to buy fabric in San Diego at all. I said "almost" because sometimes, you just want something new and you don't have time to make the drive to LA.
Labels: sewing