Catching Up
Thanks for all of your comments on my fabric choices. I'm a little concerned about boring people with sewing, but it seems like all or most of you are simply fiber enthusiasts, so I think it will be OK.
This weekend was spent primarily in the sewing arena. I still don't have a machine (although mine is being shipped to me tomorrow!), so I have to rely on the kindness of others. I finished my PJ pants and I made good progress on my circle skirt. I had to hang it to let it stretch before I did the hem. I don't have photos of the PJ pants because there's a huge mistake in them that I have to fix and, heck, I probably won't put a photo of myself in PJ's on the web. I'll do a photo of the skirt when it's done...maybe. I say maybe because, well, I finished Indigo Ripples and was so excited to wear it after it was done blocking that I did exactly that, but didn't take any photos. Now it looks all worn and everything so it would photograph well. I got a fair number of compliments on it so I think it was a success. I was happy with it and it wore well and everything. I'm also basically done with my Fitted Tank. I just need to weave in the ends. I'm not as happy with that one. It seems too small, too short, and I made a major gaffe by making the front 6 rows shorter than the back. Ah, well.
Moving on. I scored this fabric at the Yardage Town in National City yesterday: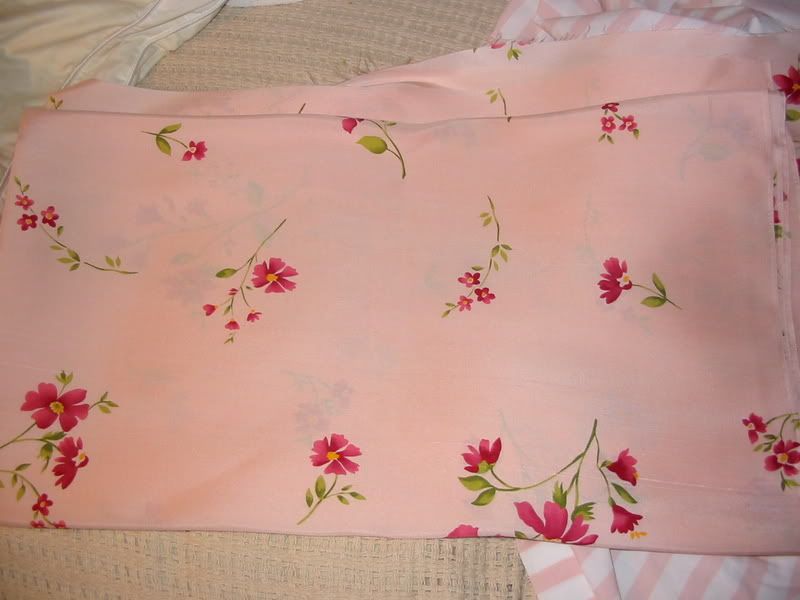 I'm thinking it would make a nice semi-formal skirt for a wedding I'm going to this summer. It's 100% silk and I got it for $12 per yard. Not exactly a steal, but for silk, I think it was a good price. It was definitely a gem amongst a lot of crap.
Here's my progress on Rusted Root, which is coming along at a slow and steady rate:
I had put this project down but now I've picked it up again.