Finished Vest with Photos!
I did it! Yes, I finished the vest, but more importantly, I got him to pose for some photos! Actually a single photo, but still.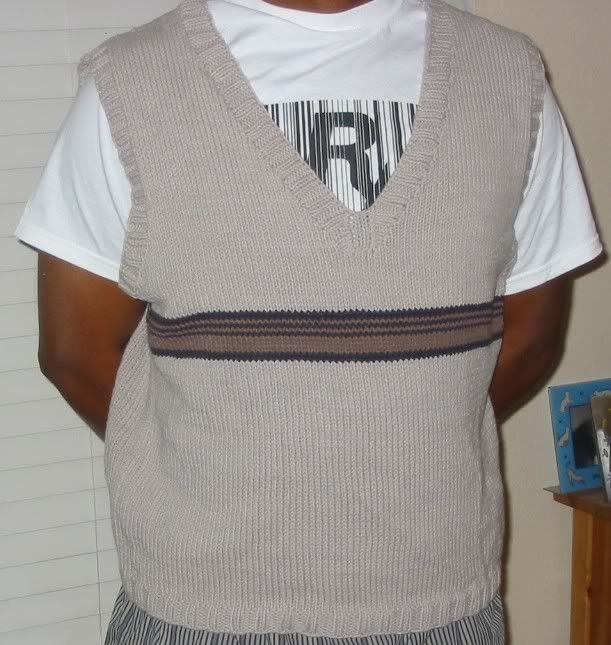 I have an early dentist appointment, so I'll have to be brief with the details, so here goes:
Pattern: Pretty much my own, although I stole the stripe from a vest in Men in Knits called the Jazz Vest, or something like that. I haven't given it a name, though.
Yarn: Cotton-Ease in Stone (main color), Taupe and Charcoal for the stripes. I used 4 of the main color, and just a tiny bit of the others.
Size: Finished chest measurement was 46". I was intending to have it be 44" or a little less, so it's a tad big on him. Cotton-Ease stretches like mad, too, so I'm a little concerned about that.
Gauge: Using size 7 needles, it seemed like I got a gauge of 4 1/2 sts/in instead of my usual 4 3/4 - 5 sts/in with the old stuff
Overall thoughts: This is my first pattern. I utilized the skills that I've learned in the classes I've taken with Dave Kraft (except that I didn't swatch - yikes!) and I think it paid off. I deserve to have it not fit since I didn't swatch, but I figured, heck I work with Cotton-Ease enough, it should be OK. Bad, I know.
Labels: joe's vest