Men Don't Know What They Want
When the new colors of Cotton-Ease showed up at Michael's, I went to go see them right away, of course. I have been waiting, at times not very patiently, to see the new colors for several months now. As soon as I saw Stone, I thought of Joe, my husband. I purchased enough to make this sweater from Greetings from the Knit Cafe:
Since the original pattern is knit in a bulky yarn, I will have to basically redesign the entire thing. When I showed Joe the yarn, he scrunched up his nose and said, "I don't like this. I don't wear colors this light." I was pretty disappointed, but I regrouped and searched for an alternative - I scored enough All Seasons Cotton in a guy-friendly color of army green to make the above sweater.
Still, I wanted to use the Stone, so I decided that, even though he says he doesn't want a sweater out of the Stone, he really does. Perhaps he can't picture the final product in his head. Perhaps he's in denial about the colors he wears. Or perhaps about the colors that actually look good on him. Perhaps it's my job to show him the way! Yes, that's it!
So, I cast on for a vest based upon a pattern in Men in Knits, but with a totally different fiber, color and gauge. I guess you could say I was "inspired" by the pattern, but I'm making my own design.
I'm almost done with the back, but I still need to decide how big to make the neck: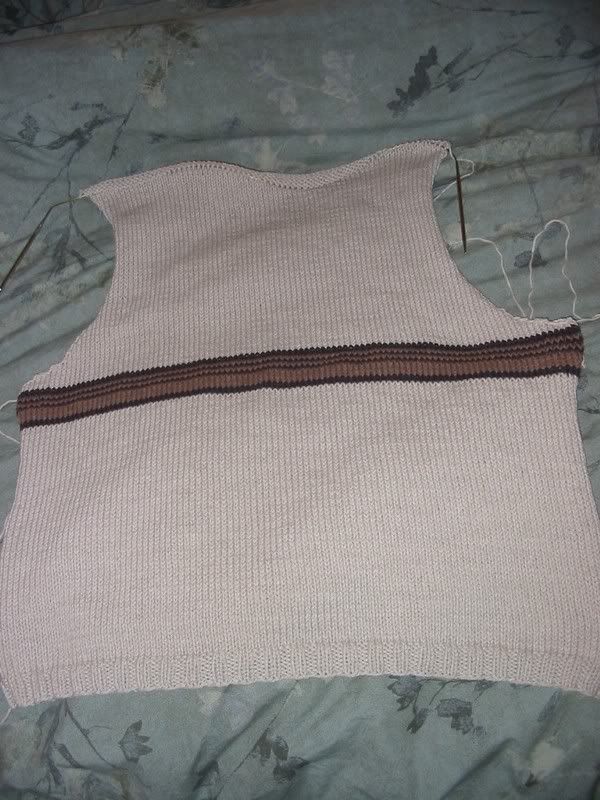 The stripes are Taupe and Charcoal, also new Cotton-Ease colors.
So far, I'm liking the new Cotton-Ease even better than the old because the colors aren't so childlike. It does seem to knit up at a looser gauge - it might be bit stiffer or it might be my imagination - not sure. Even though I was concerned about the fit, here's how it compares to a vest he already owns and wears regularly: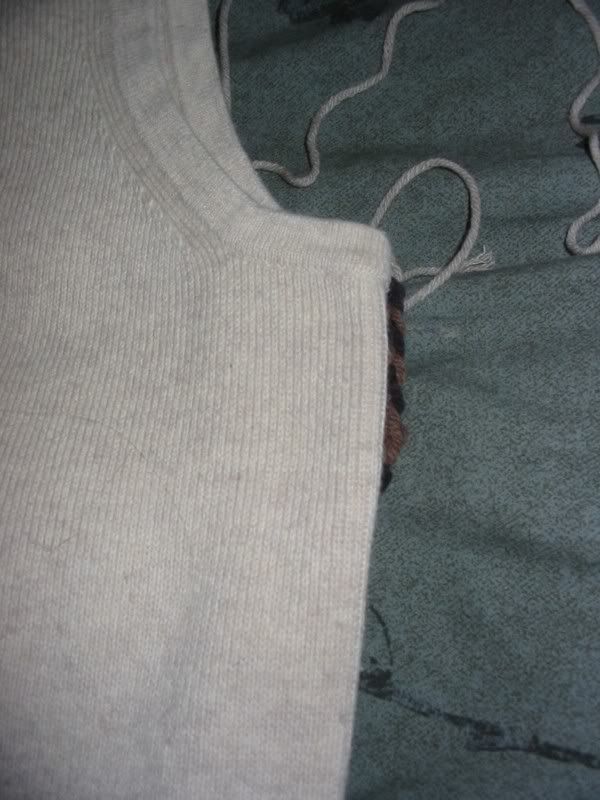 They pretty much line up perfectly, so I'm fairly confident it will fit well. Notice the similarity in color. Hmm, apparently a certain someone DOES wear light colors. Maybe I'm onto something. The only difference is 1/2" in length. I'm hoping to have it done for his birthday on Wednesday and since it's spring break, it might happen. Yesterday was not a great day for knitting because I spent the day cleaning and running errands. I'm hoping to do better today.
I'll leave you with the obligatory cat photo:
Isn't she a little devil?
Labels: cotton-ease, joe's vest