Actual FO pics!
I know that I'm really bad about posting FO pics. Once a sweater is finished, I usually want to wear it right away and no one is home to take a picture. I don't want to put a picture up of me wearing a sweater at the end of the day, when its all wrinkled and stretched out, so I usually never get around to it (like in the case of my Hourglass sweater which has been done for weeks and I've worn several times). Anyway, I decided to post wrinkled, stretched out photos of Remembering Honey: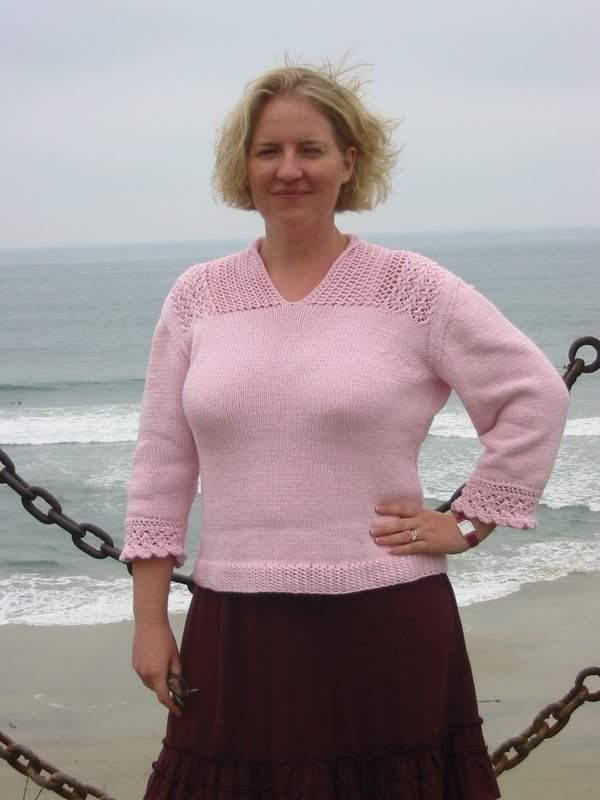 Stats:
Pattern: Remembering Honey, pattern from Spring 2003 IK
Size: I made the 41.5" bust hoping, based upon my swatch that it would be 39", but alas, I don't think it is.
Yarn: Lion Brand Cotton Ease, Strawberry Cream, 5 skeins
Needles: Size 7 addi turbos and size 5 addi turbos
Modifications: I added short row bust shaping because I think it adds shape to a sweater. Otherwise, sweaters on me can end up looking like sacks. Other than that, the only thing I did was make a different size based upon my gauge. Oh, and I omitted the bobbles on the sleeves because it called for a cable needle and I was too lazy to find the right size dpn. I generally don't use cable needles.
Overall thoughts: The gauge that is called for in this pattern is very unusual and from what I've read on the blogs of other people who have made this sweater, very hard to get. I just got a gauge and then made the size closest to that. I checked row gauge to make sure everything else would work out. Even though it came out bigger than I thought it would, I think it fits pretty well. I'm very happy with the final product and I've already worn it twice!
The photo was taken at a vista point in Encintas, near Common Threads and Black Sheep, where I spent Saturday yarn shopping and eating really good Italian food. The weather was crap, though, as you can see.
Labels: remembering honey