Wavy FO
This scarf has been finished since last Saturday, but I haven't been motivated to actually weave in the ends and call it done because it's been so warm here over the last week. I've been wearing T-shirts and sandals, so I think a really thick mohair scarf would have been out of the question. I made a deal with myself, though. I decided that if I finished it, I could start the
Haruha scarf
. I reneged on that deal, though, because the needles I'd use are currently being used for my beret which got abandoned because of a mistake. So, finishing the beret is my new goal.
Anyway, here it is, all finished and being modeled by Monkey: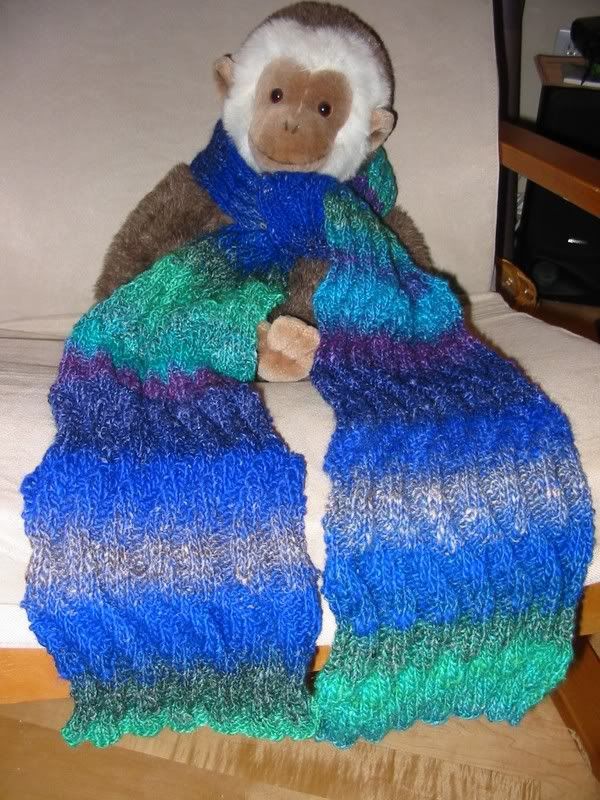 He doesn't look hot at all, does he? In fact, he looks positively COOOOOL!!!
Stats:
Pattern:
Wavy
from knitty
Yarn: Noro Silk Garden, Color #8, 4 balls (I used almost every last bit)
Finished dimensions: Approximately 7" wide and 63" long
Needles: Size 7 Lantern Moon straights
Anything else?: Not really. It's a clever pattern that got a little boring (OK, a lot boring) towards the end. But I did finish it, so that's something. It's a little yarn hog, though, so plan accordingly!
I also finished my second swatch for my class sweater project. The first swatch was on 6's, but the fabric was really stretchy and loose. I did it on 5's for the second swatch, and it's still pretty darn stretchy. I think this is as small as I'm going to go, though, because I like the size of the yarnovers and the stitches themselves. It's kind of hard to see in this picture, but here it is: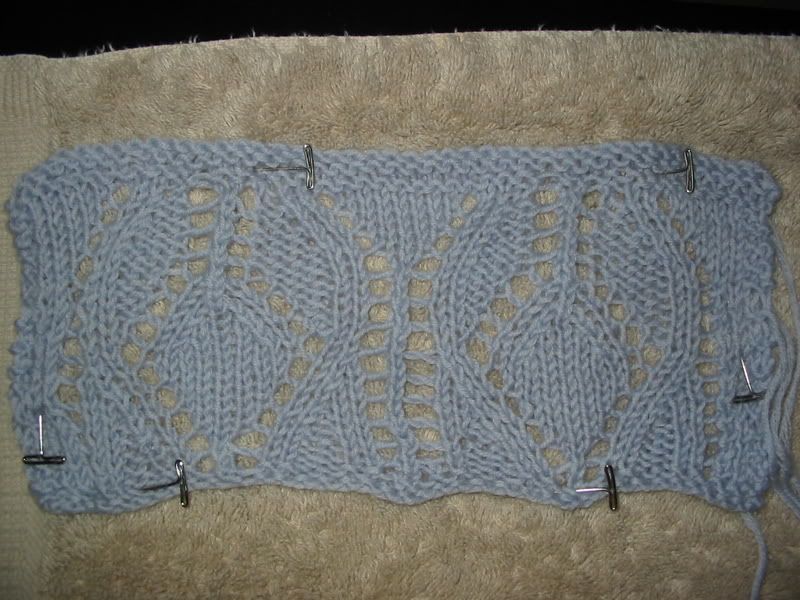 The swatch was sooo soft after being washed. Yum!
I need to find a name for this sweater. Rebecca called "pink lace sweater" or something uber-original like that. Any ideas?
Tonight, I met up with Dis and Nonnahs from
A Little Loopy
and Jessica from
Jessimuhka Knits
for a little Thursday night knitting at a local coffee house. We had a nice visit and everything was going really well until the "musical act" started. I use quotes because this was seriously painful to listen to, and I was in the marching band in school. I've heard 6th graders learning to play the clarinet, but this was B-A-D. I was thinking to myself that it was the worst attempt at music I'd ever heard when Jessica confirmed this for me. I couldn't keep a straight face, so we had to leave. I laughed the whole way home. I guess in that way, it was "entertainment", too!