Back From Stitches West!
I just flew in to San Diego today and I'm so beat! What a weekend!
I left to fly up to San Jose on Thursday morning and arrived just after lunch. I ended up going up a day earlier than planned because I heard there was going to be a Market Preview only attended by knitters taking Stitches classes on Thursday evening. I patiently waited all day until 7 p.m. when I rushed into the marketplace along with hundreds of other knitters. Even the preview day was crazy! We had two hours to take in an entire convention center filled with yarn of all kinds. Some I recognized, some were from small mills, most of it was gorgeous, some of it was fun fur. I tried to be systematic about it, but when after an hour, all I'd done is seen three or four booths, I got panicky and started wandering aimlessly. By 9 p.m., I felt like I'd been hit by a bus or something. Wow! Totally overwhelming!
On Friday, I took a class on Celtic Cables from Melissa Leapman, which was pretty good, although most of it was stuff I already knew. I can't help getting starstruck, though, so I was glad I got a chance to know her a bit. The rest of the day was spent back in the marketplace trying to prioritize and decide what delicious yarny bits would be coming home with me. Although I felt a little scattered with my purchases, I think I ended up doing really well. I wasn't sure if I should get anything that I could easily get on the Internet, but I ultimately decided that if I saw it in person and liked it, and hadn't seen it anywhere locally, I could get it.
So, what does a non-lace, non-sock knitter buy herself at Stitches West? How 'bout 3 hanks of Socks that Rock, colorways Nodding Violets, Ruby Slippers and Mist?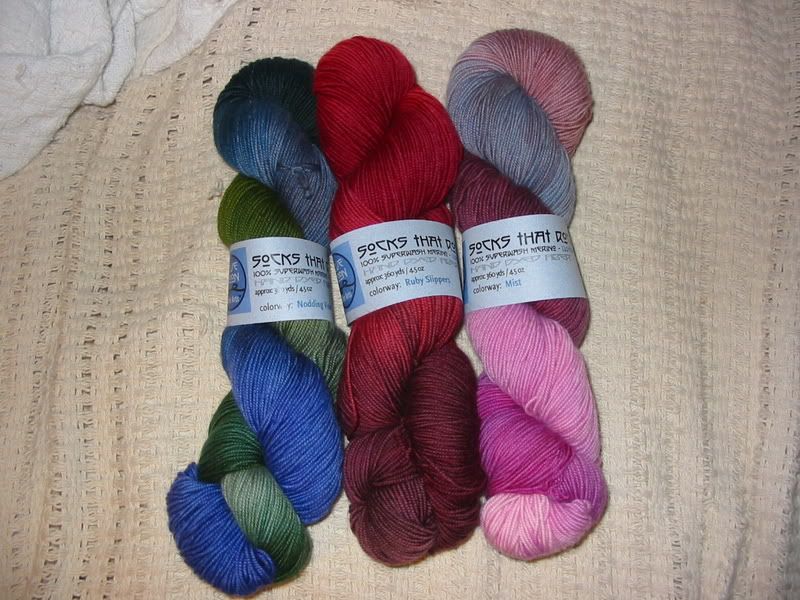 How 'bout 4 hanks of Louet Sales Gems Pearl, colorways Eggplant and Crabapple Blossom, purchased at the Bay Area Knit Co-Op for making two fantabulous non-knitty Cookie A. patterns?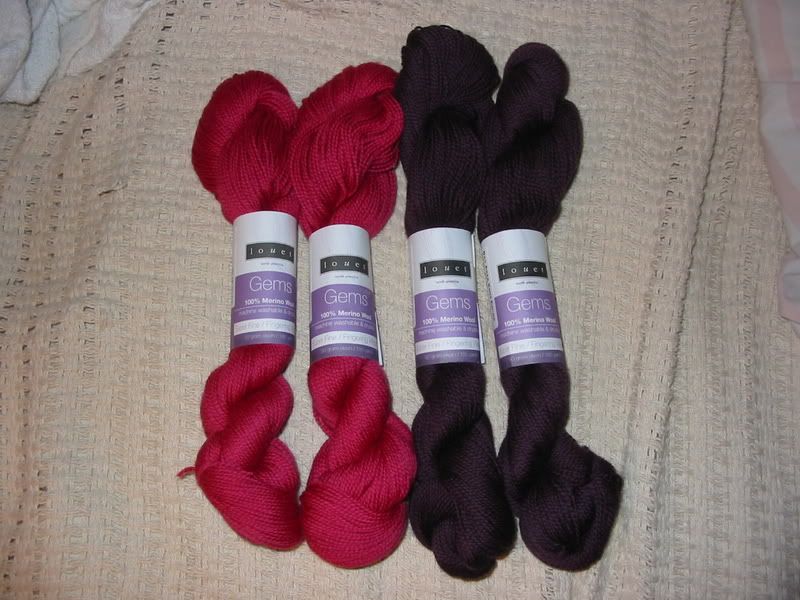 How 'bout 1 hank of Zephyr laceweight wool/silk blend, also purchased the from the Bay Area Knit Co-Op (an amazing deal at only $10 for 630 yards) ?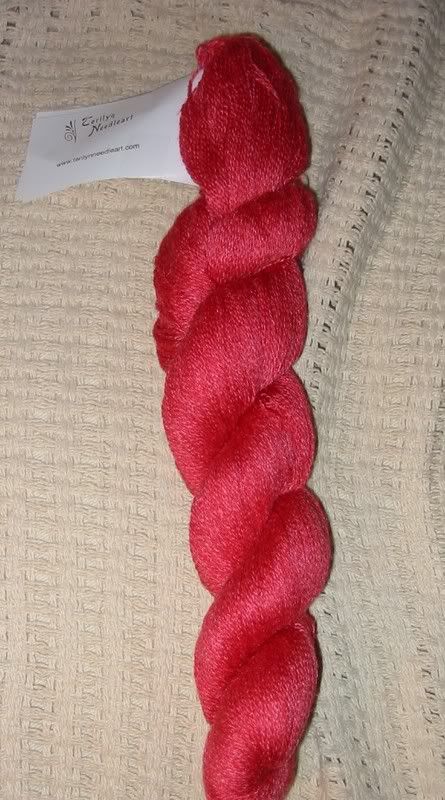 Sure, why not? I couldn't just get yarn for sweaters. How the heck would I get it home, right?
Never fear, I also bought stuff for sweaters, too. I nabbed this great bag of yarn, 1370 yards of Anny Blatt Merinos for $40, WAY WAY less than retail price. Basically, that's 75% off their bag sale price which is 50% off of retail price. Egads!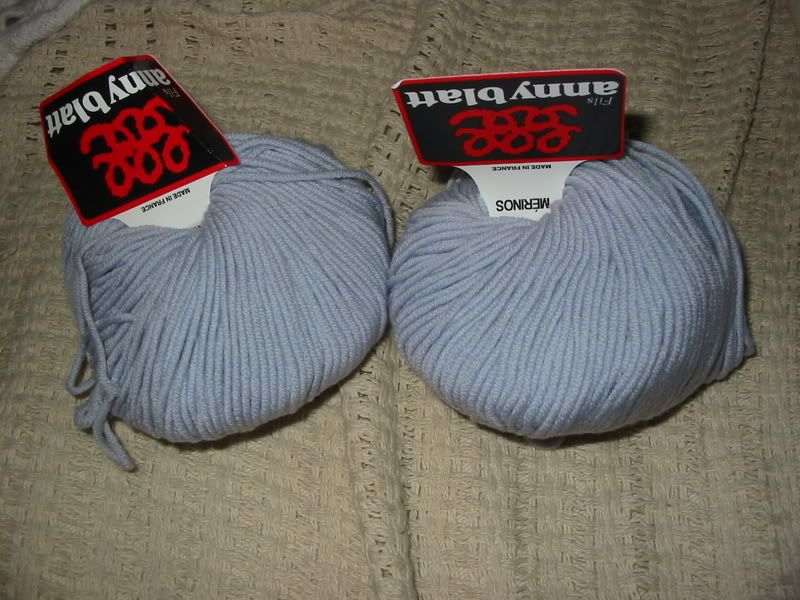 I also got these cool buttons from a small vendor who doesn't do business over the Internet. Drat! I'm usually stuck getting buttons and Joann's and not being very happy with the results. That's what $40 worth of buttons looks like. Hey, they're vintage!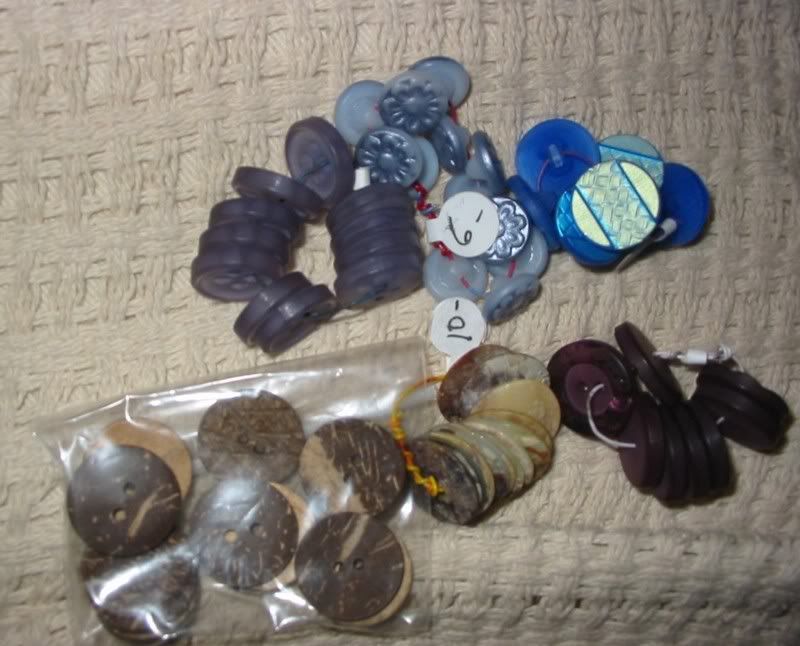 Last, but most certainly not least, I couldn't resist getting yarn from
Brooks Farm
, a mill from Lancaster, TX. Their booth was simply magnificent with the yarn hanging in hanks in every color- and fiber- combo imaginable. They had 100% mohair, mohair blended with silk, mohair blended with wool, 100% superwash merino, a la Shepherd Worsted, and the combo I got, a 50/50 blend of silk and merino wool that is literally TO DIE FOR! It's an almost-solid purple, although it is subtly variegated with tonal colors. I got enough to make Wicked and now I'm finally psyched about casting on and getting started. Yay!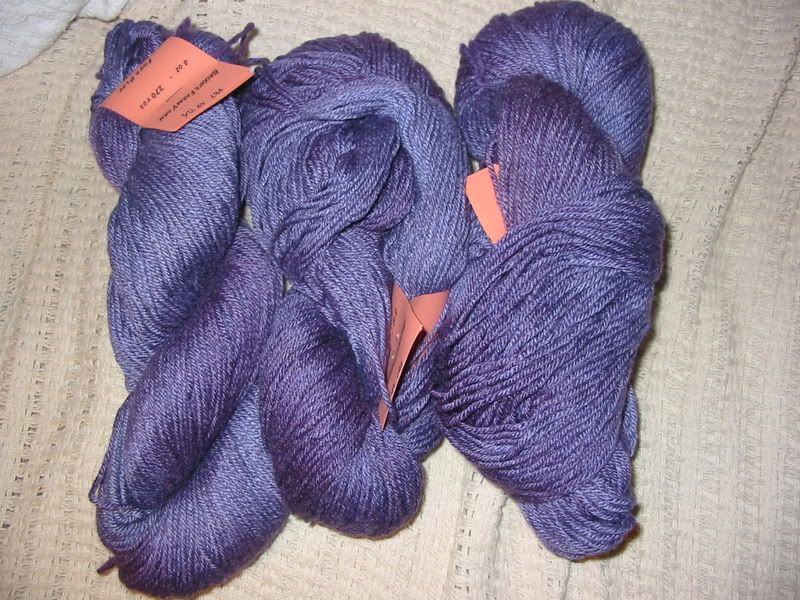 Lemme think what else? The Blue Moon booth was complete insanity at the beginning of the show. At one point, I was eyeing a hank of the lightweight when a woman grabbed it right at that moment. People were buying
armfuls
of the stuff. Some people were extremely pushy and rude. I really liked the Bay Area Co-Op's booth. It was where Cookie A. was selling her patterns along with the yarns I mentioned and some of her own sock yarn. WEBS was there with all of their own Valley yarns as well as several of the yarns they have on closeout through their site. That's only about 5% of what I saw...I could go on and on...
On Friday night, I had dinner with Dis, Susan and Shannon of
A Little Loopy
, Kris of
Kris Crafts
and Marisa of
One by One
. We were looking a little worn out from the weekend's festivities, which is pretty pathetic since women MUCH older than us were whooping it up, singing, drinking in the elevator, and basically being party animals. We were a stark contrast falling asleep on our feet waiting for a table at the hotel restaurant.
After leaving the convention on Saturday, I headed up to San Mateo to crash with a friend from college. She's a non-knitter, so my yarn store time in the Bay Area was limited. That was fine because I was sort of yarned out after Stitches. To put it another way, I didn't really want to look at another ball of yarn in my life. That didn't stop me from heading to Artfibers in Union Square, right in the heart of San Francisco. I'd heard so much about this place that I just had to check it out for myself. It is a shop where they make their own yarns and let you do "yarn tastings" by providing needles and an inviting place to sit and knit. The day I went, they were only open from 2 to 4 p.m., so such tastings weren't in the cards. I browsed for a bit and got a souvenir - a scarf's worth of a 50/50 merino/silk semi-solid yarn in this amazing rose color. Yum! In all, I found that they had a lot of very expensive luxury fibers, but nothing I could truly use to make a wearable sweater. There's a place for all kinds of yarn stores in my world, though.
None of us thought to take any photos of our adventures, which is typical for me. Be assured, though, that a good time was had by all. I'm really glad I went - it was a great experience. I can only hope that when I am the age of most of the attendees (i.e. 50-plus), I can go to Stitches and have as much fun as all of the women around me. I figure it's something to shoot for.
Labels: Stitches West