This is why I'm taking the class...
So, I brought my idea of doing the Kim Hargreaves sweater to class on Saturday and the teacher (who I will refer to from now on as Master Dave because calling him the teacher brings to mind a stern bun-wearing spinster weilding a yardstick) was supportive and helped me figure out that the damn thing was knit in like 10 pieces and sewn together!!!! I am basically, "The Knitter Who Hates to Seam or Do Finishing of Any Kind", hence the half sewn up and half-finished sweaters lying all over my house. After some consideration, I decided to change my mind and do this project instead: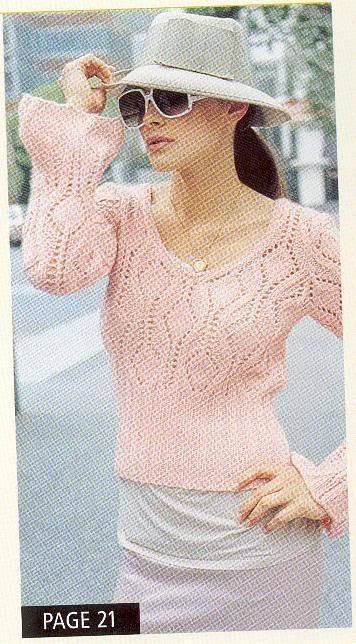 It's a sweater from last spring's Rebecca. I fell in love with the sweater immediately and was really bummed to discover that it only went up to a finished measurement of 32"! Wtf? It's knitted up in worsted weight yarn, so my task will be to upsize and redo the pattern for my gauge. I did one swatch so far and I'll need to do another on smaller needles before I decide what my gauge will be.
In other news, I finished the front of Remembering Honey last night. The lace patterns were fun to do, but required some concentration, so I put finishing this off for a few days. But, now it's done and it's time to move on to the sleeves. Here's a photo:
Here's a close-up view of the lace pattern along with the short row details I put in for the bustline so it wouldn't look like I'm wearing a sack: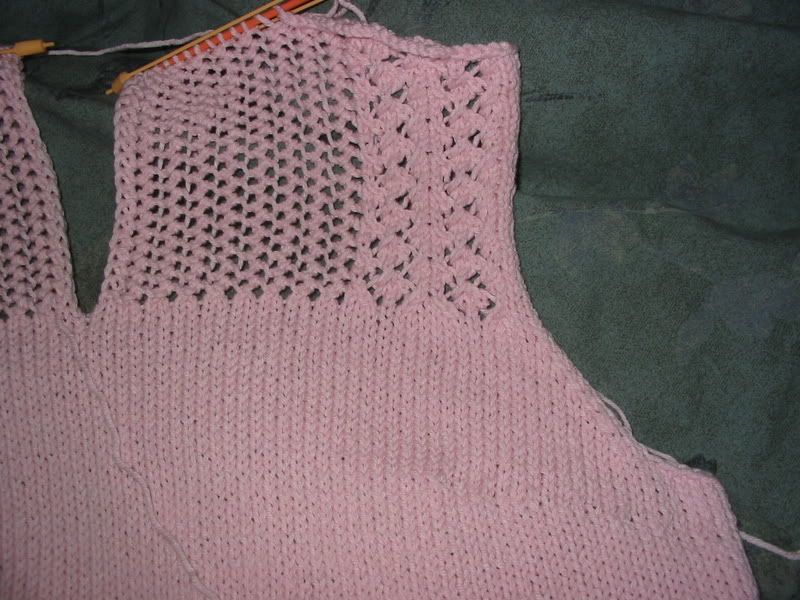 Last, but not least, while on my Stitches trip, I started a sock! I know, shocking. I used to knit socks all the time, but my attempt at Pomatomus burnt me out on them. Don't get me wrong, Pomatomus is turning out right and I didn't make mistakes or anything, but all of that 1 x 1 rib and twisted stitches got me down after a while. All I've got left is one foot to do and then they're done, but I'm leaving that as a UFO Resurrection project for later in the year. So, I started the
Monkey
socks from the Winter 2006 knitty, I think. Anyway, I had a little trouble because I started out with the recommended needle size (Addi 1's) but it was turning out a little big for my foot. However, it fit around my shapely (ahem) calves quite nicely and using a smaller needle would make the sock too tight. So, I switched to US 1's after 2 repeats and I couldn't believe how well that turned out. It fits perfectly. This pattern really needs to be blocked so its hard to see, but here is my progress so far: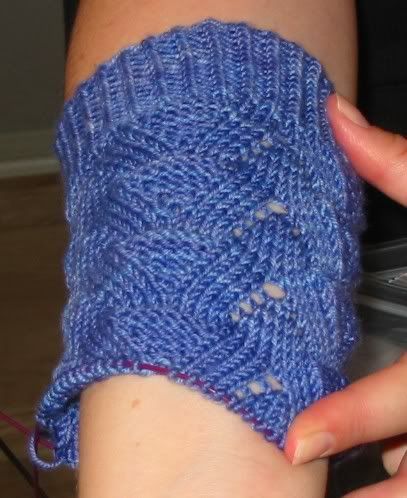 I'm using STR medium weight in Sapphire.
Finally, I've joined the
Interweave Knits KAL
and did my first post today. Check it out!