Tranquility
Tomorrow, I'm starting a six-session class on sweater design at the Grove. Basically, we are able to choose a design, any design whether from a photo or something in our heads, and then we work with our instructor to swatch and draft a pattern based upon the design. Ever since Kim Hargreaves left Rowan to start her own business, I've really been missing her patterns. There have been several that she's had on her website that I've liked, but I really can't afford the kits that she sells, especially after the exchange rate. So, I'm going to emulate one of her designs: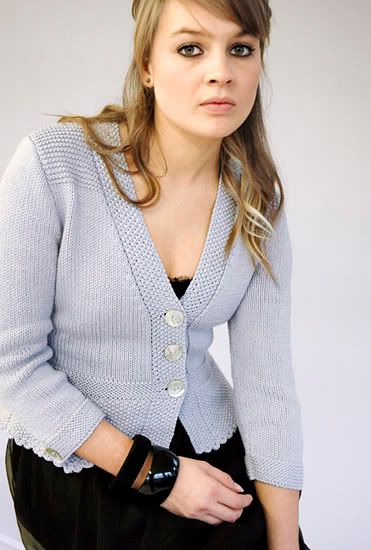 It's called Peace, and it seems like a very simple design. I suppose it is, but it will be a good design for the class because I'll learn how to create a shape that fits me, design a set-in sleeve, and design the v-neck. I think this design is incredibly classy and elegant, though, and I can't wait to see how mine takes shape. I'm going to call my design Tranquility. I'm using Anny Blatt Merinos in a similar shade of blue as is in the photo.
Regarding other knitting, I have been working on other stuff. I've seamed up half of Starsky and I've almost finished the front of Remembering Honey. However, I've started a new project that I'm really excited about. After seeing
Nonnahs'
gorgeous beret, I've decided to start one of my own. It's a perfect use for Blue Sky Alpacas Alpaca & Silk yarn. It's pretty expensive stuff, but this lovely beret only takes one hank. So far, I'm LOVING working with it.
Labels: beret, tranquility