Don't Break Your Arm Patting Yourself on the Back
This is what my husband said to me today when I told him how clever and economical I was. I'll tell you what prompted that comment.
In a couple of weeks, I'll be heading up to Stitches West in Santa Clara, CA. I'm really excited about the trip - I've heard amazing things about the Marketplace and the classes - I'll be taking one on Celtic Cables. When the recent Magknits came out, I got inspired by the
Peekaboo mittens
. I don't have much call for mittens in San Diego, except the three or four times a year I REALLY wish I had them. But for those times, I'll be really glad I have something to keep my hands toasty. I could also use them for my trip to Stitches and the following boondoggle to San Francisco to visit a friend from college. Plus, the yarn (Jo Sharp DK wool in Viola) was a generous gift from
wenders
when she moved and was looking to destash. So, it wouldn't cost me anything.
This morning, I thought, since northern CA is much colder than southern CA, I should whip up a quick scarf and hat to match my mittens! So, I dug through my stash I found these odds and ends.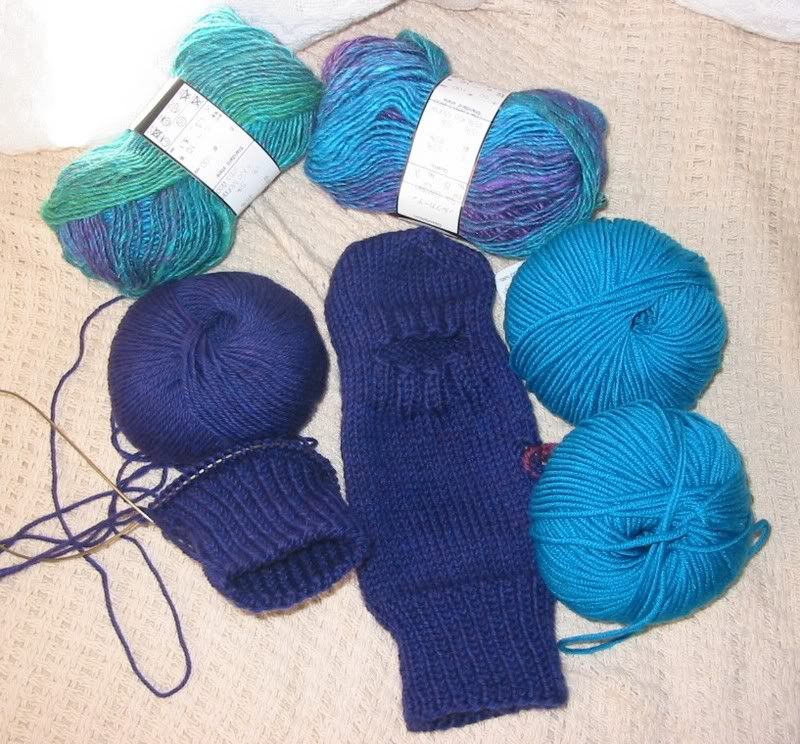 Aren't they a perfect match? They're basically odd balls of yarn and leftovers that would otherwise sit there unused. So, that's when I told my husband how clever I was, which he clearly didn't appreciate! You'd think he'd be happy I wasn't buying more yarn. Anyway, I thought it was perfectly in line with everybody's efforts this year to buy less yarn and use up that stash.
I'm going to use the
Coronet
pattern from knitty and the Karabella Aurora 8 for the hat. I'm not sure yet what I'm going to do for the scarf. Any suggestions of what pattern will show off the Silk Garden?
Happy Sunday everyone and enjoy the Super Bowl. Oh yeah, I'll have pictures of a finished Hudson tomorrow. I'm still putting the finishing touches on the zipper.