Ribby Cardi - First Look
Ever since Christmas, I've been working on my Ribby Cardi, but it hasn't really been in a condition to show it off. At this point, I've finished the back, the fronts and part of the sleeves, so I think it's ready. It took me a long time to choose a sleeve color and, as a result, I have a lot of yarn that I ended up not using. Looks like a felting project is in order.
I've started blocking it so that it will be ready to seam when the sleeves are complete. I'm not pinning it out in hopes that the ribbing will retain its elasticity. I'm really only blocking it to try and soften up the yarn and make it bloom. Here's a photo of the back blocking: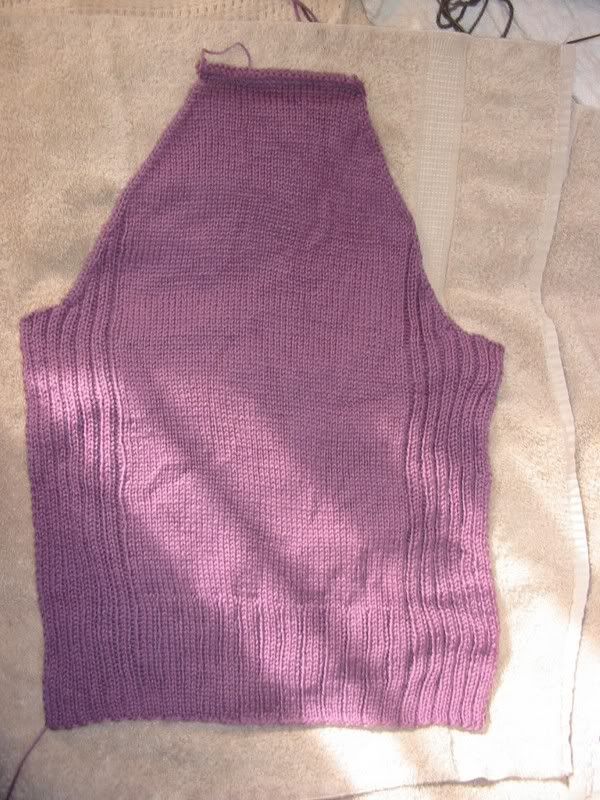 I tried to get a photo of the fronts and sleeves, but the fronts are curling terribly. They are yet to be blocked. However, you can see how the sleeves work with the main body color here: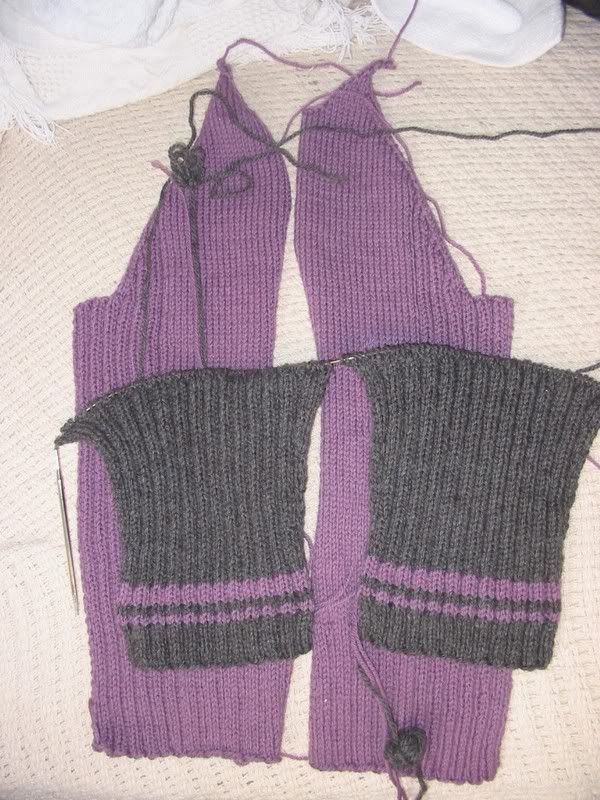 The main body yarn is Ella Rae Classic Wool, which I'm not in love with. The stitch definition is blah and it doesn't feel particularly good. I definitely prefer Nature Spun and will opt to use that more often in the future. The sleeves are made out of Patons Classic Merino which I was very surprised to find that I absolutely LOVE working with. This will not be my last project with it. The only issue is that the color palette was not very sophisticated - typical of Michael's/Joann's yarns. This yarn is really soft and squishy, especially in comparison to the flat and lifeless Ella Rae. I'm glad that this will be what will mostly be touching my skin, since I'll probably only wear this with a tank top. I'm also making the collar out of the Patons, so the Ella Rae won't be against my neck, either.