Done in the St. Nick of Time
I've never had to finish Christmas knitting on Christmas Eve before. I'm usually done ahead of time because I'm not particularly ambitious with my gifts (especially for non-knitters). I'm never sure if they'll appreciate the gifts as much as they should, so I do simple things. That way, I'm not offended if I never see the person wearing what I made.
This year, my knitting injury sidelined me for six days, so I got way behind. All of my Christmas knitting is now done, at 1 p.m. on Christmas Eve. Well, almost. I knitted a pair of slipper socks for my sister-in-law, and one is 3/4 inch longer than the other one, so I have to rip it out and redo the toe. It turns out that I'm exchanging gifts with her tomorrow, so I have a little more time. I hate tearing stuff out.
By the way, my knitting injury has completely disappeared. One night, it hurt, and I knit anyway. In fact, I knit several hours that day. The next day, it had totally stopped hurting. It's like a Christmas miracle.
Anyway, here is my completed School Spirit Sweater for Savannah:
Here's another view so you can see the sleeves a little better: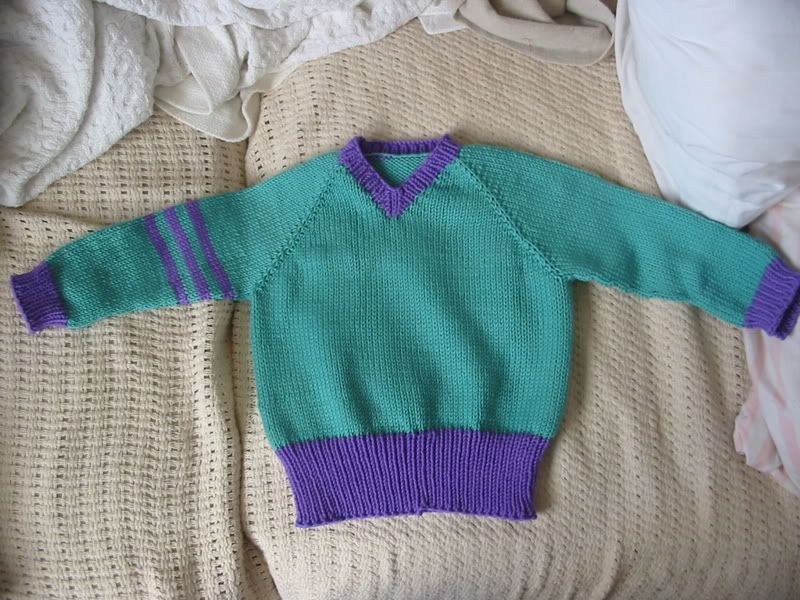 Stats:
Pattern:
School Spirit Sweater
, designed by Wendy Bernard of knit and tonic
Size: 4 years
Yarn: Karabella Aurora 8, #50 and #1530
Date started: November 19, 2006
Date completed: December 24, 2006
Needles: Size 7 Addi naturals (24") and size 6 Addi Turbos (24")
Overall thoughts: I really liked this pattern. I didn't make any modifications to it. I'm concerned about the neck fitting over Savannah's head, but I followed the directions, so I'm going to choose to be optimistic.
I also finally finished Joe's sweater. The zipper is sewn in and the facings are tacked down. Overall, I'm pleased with it, although the zipper may need some reinforcing in places and I didn't do a great job of tacking down the bottom hem facing. Also, I used the wrong color thread for the zipper and it shows at the top when the zipper is slightly unzipped. I may end up coloring over it with marker so it's not as obvious.
Anyway, here it is: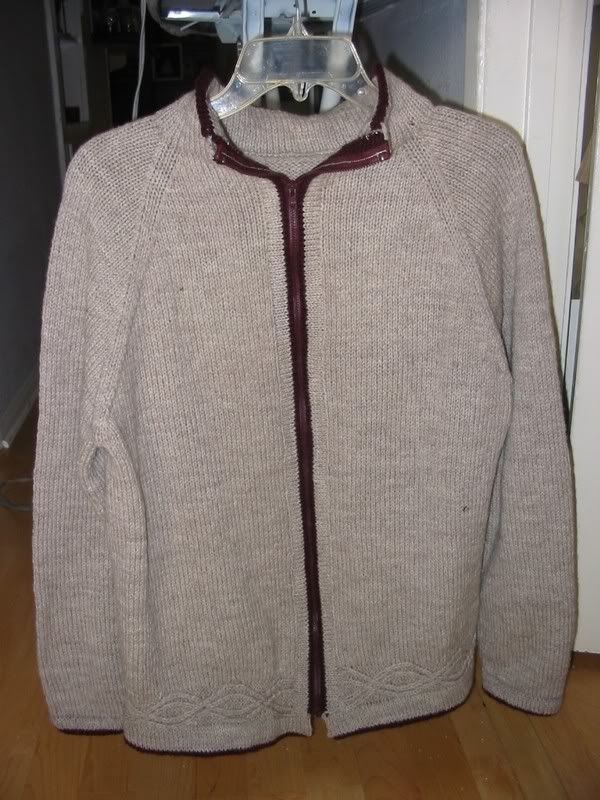 Stats:
Pattern:
Avast
from knitty
Yarn: Nature Spun Worsted in Ash and Plumberry
Date started: 10/1/06
Date completed: 12/24/06
Needles: Size 7 Addi turbos (32" and 24") and size 5 Addi turbos (32")
Overall thoughts: I didn't make any modifications to this pattern, and since I got both row and stitch gauge, I didn't have to rethink any proportions, which was nice. It was a lot of work knitting the facings and tacking them down, and, as always, sewing in the zipper was an enormous pain. But I really like the pattern and I recommend it.
I also finished my dad's hat: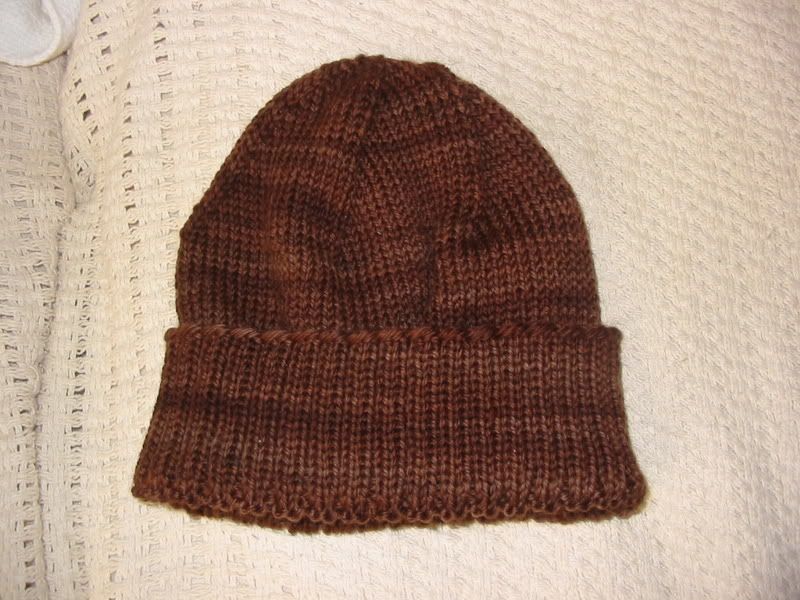 Stats:
Pattern:
Seaman's Cap
from Needle Beetle
Yarn: Lorna's Laces Shepherd Worsted in Chocolate, 1 hank
Date started: not sure, about 2 weeks ago
Date completed: 12/24/06
Needles: Size 6 and 7 Addi turbos (16")
Overall thoughts: This is a great pattern that yields a nice result. I will definitely be knitting it again.
Finally, I got a surprise in the mail today from the incredibly hard working postman, who's
working on Christmas Eve, on a Sunday, no less. It's Classic Elite Skye Tweed in Tapestry and Rosey Glow.
I have enough of the Tapestry to make a sweater and enough of the Rosey Glow to finally make myself a pink beret! I got this yarn from Elann.
Merry Christmas and/or Happy Holidays from the Purly Gate!!