Vest Complete and Zipper Drama
I finally put the finishing touches on my vest. After the steeking was done, I still had to put on the neckband and the armbands. I finally finished that this morning, and now it's ready for a Eucalan and vinegar bath. This time, I'm done really early - I didn't have to be done until Dec. 21. I wasn't sure how long this thing will take to dry, since it's double fabric, so I figure, better to be done early than bring a sopping wet mess to our next meeting.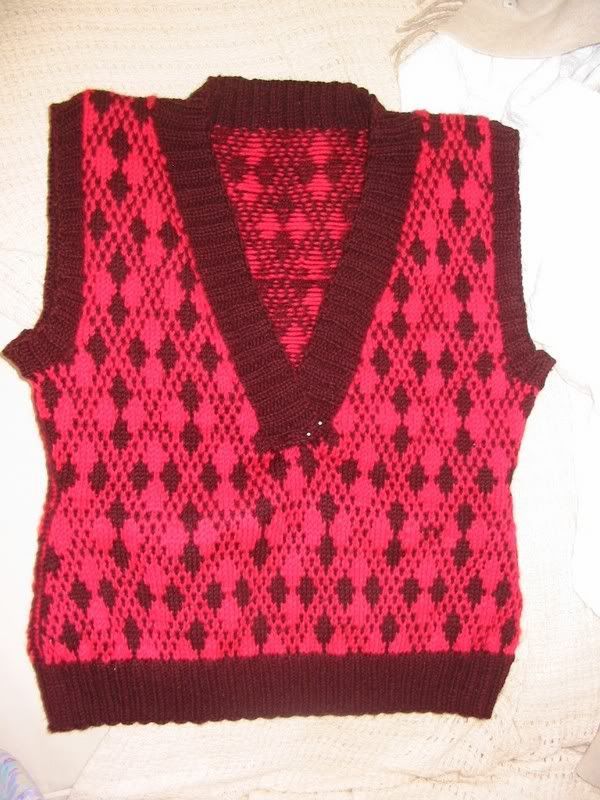 Overall, I'm quite happy with it. Like others, I have a tad extra fabric in the top section, and I'm not sure why. It doesn't cause much problem, though, and I consider the finished product a success. At our next meeting, our teacher is going to show us how to tack down our facings and weave in the ends so they don't show. Then, this puppy is pret a porter!
Now, onto the zipper drama. Don't you just hate zipper drama? The zipper for Joe's sweater came in the mail the other day, so immediately pinned it in and it was too short! Not by much - I figured it could be eased in since it was only about an inch too short. So, sick as a dog, with a runny nose, aching sinuses and leaking eyes, I drove to La Jolla to drop it off at Margaret's cleaners for installation. Of course, the lady who could help me wasn't there, so I had to sit next door and eat a really good brownie (woe is me) and wait for her to get back. When she did, she very nicely informed me that they weren't able to install my zipper (despite being recommended by Knitting in La Jolla for that very thing). She called the Del Mar store to see if maybe they could, and the lady there asked for the sweater to be sent up to her so she could take a look. I gotta tell you - if they aren't 100% certain, I don't think I want them touching the sweater. I'd rather do it myself. Since that's probably what I'm going to have to do, and since hand sewing it in myself won't take more than a day, I decided I had time to order the zipper of the correct length, which I did yesterday. So, hopefully, it should all work out OK. I'm still waiting to get my sweater back from Del Mar, though. It's kind of a hike up there, and I haven't felt up to the trip.
So, there you have it. I just swatched for my dad's hat using Lorna's Laces Shepherd Worsted in Chocolate. Yummy! It has these suble gradations of color that are gorgeous without being too feminine. Of course, the needles I have don't work, so I'll have to buy some. That's the kind of week I've had though. I'm finally feeling somewhat better today, so hopefully, it will be a healthful weekend.