Just A Quick One
I'm always glad to make it to Thursday because it means that the hardest part of my week is over. It also means that tomorrow is Friday, so the day I live for - Saturday - is almost here. It's the only day that I don't have to do any work or feel guilty about not doing any work.
I made it through the seaming on my Central Park Hoodie and, once I was done, I tried it on. Guess what? It fits! The needle I'm using is really kinky (those damn Inox cords!) so it's always a little tweaked since the hood is still on the needles, but the armhole is good, the sleeve length is good, the body circumference is good. I can't wait to block the Skye Tweed, though, because as of this point, it's a little rough next to the skin. I've got my blocked swatch to prove to myself that a soft, cozy sweater is in my future.
At this point, I'm about 8 inches into the hood and getting ready to add some additional shaping to it that isn't called for in the pattern. I'm trying to avoid that elfin point at the top. I'm just not that into looking like a wizard. Here's a photo of the back:
That Inox needle interfered with me getting it to lay flat. Well that and the fact that I was late to work and needed to take that photo FAST. Here's a photo of the front: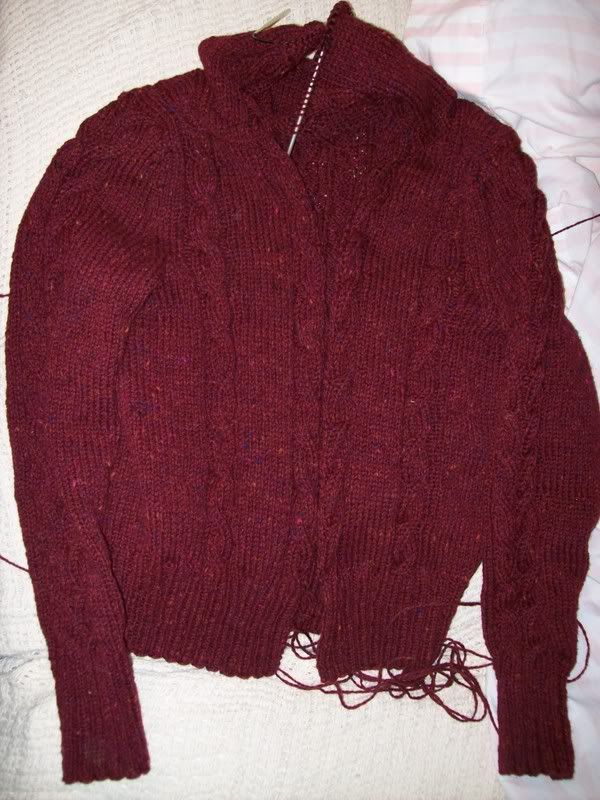 That one came out dark for some reason. Anyway, once the hood is done, then it's just the button bands and a good blocking. Then, it's cozy sweater time! I'll have to take a trip to the mountains to get a full appreciation of the warmth of this sweater.
Labels: cph