The Zero Dollar Sweater
Ever since I saw the
Tree Jacket
pattern, I've wanted to make it but I knew that I had to find just the right yarn. I just HAD to be soft because it goes up around my neck, and it had to have a sproingy, cozy look to it. Over the last year, I've been really good about knitting from my stash, and don't have much of one left (that includes Cotton-Ease by the way).
Well, thanks to joining with two others for an order to WEBS (25% discount), returning some yarn I bought a while back that I didn't plan to use and selling 6 skeins of Bubble Gum Cotton-Ease, I basically got enough enough Malabrigo to make the Tree Jacket with no money out of pocket. The color is Velvet Grapes: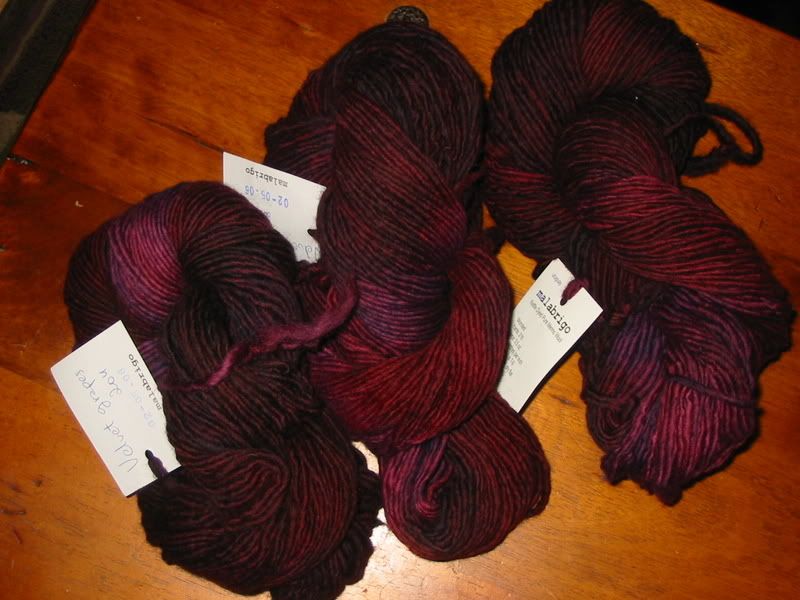 I only have three in my possession at the moment, but the other two should be coming in the next couple of weeks. I'm pretty sure that dyelots won't matter much here...or at least I'm hoping as much.
I've wanted to make a sweater out of Malabrigo ever since I saw it for the first time about two years ago. It looks like I'm finally going to be able to...unless the hanks from two separate lots are completely different, that is.
Labels: tree jacket