Wicked Progress
With the evenings getting cooler here in San Diego, I had a yearning to work with wool, again. In November and December, we get our coldest weather, such as it is, so I want to be prepared. A couple of weeks ago, I cast on for Wicked: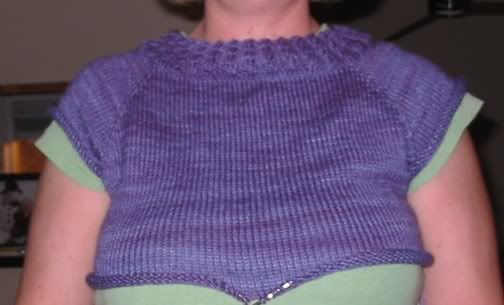 I'm using Brooks Farm Four Play that I bought at Stitches West last year. I LOVE this yarn, although I have a feeling that it's going be pill-y. It's sheer heaven to knit with, though. The Brooks Farm booth at Stitches is
almost
enough to get me back up there this year, but I'm not sure I'll be able to go. I may have to give my money to those who can go to pick up some more of this yarn for me.
In other non-knitting news (is there such a thing?), I got a big raise at work today. It really couldn't come at a better time, since I've been rather down about the sorry state of our finances as I grind away in my last semester of school. Both my husband and I are students now, but we're a little old to be living like students. In short, the additional funds are very welcome.
I've been sewing, too, and I have a skirt that is in the hemming process. I should have photos of it soon - I just love the way it turned out - perfect for fall. I'm even going to buy some knee-high boots to go with it to celebrate my raise!