Old FO pic
I've kind of been on an old UFO tear, and it's really just beginning. With the weather cooling down, I've opened up my "trunk" of unfinished projects and started working on them again. I'm going to have another FO photo for tomorrow. Yesterday, I did a little shopping in Encinitas (I even bought a little yarn) and I wore my Hourglass Sweater from Last Minute Knitted Gifts. I finished this in February and wore it to Stitches West, but I never took a modeled photo. I am remedying that oversight now: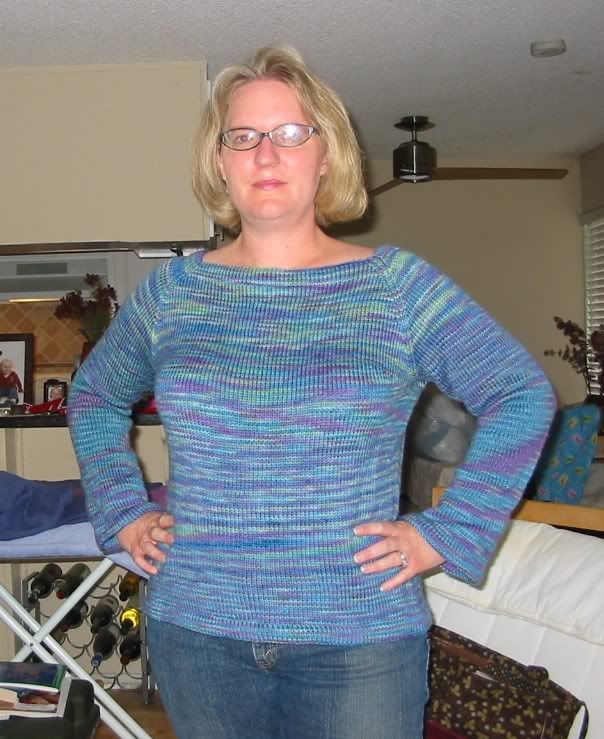 I used Lorna's Laces Shepherd Worstedthat I had intended to use for the Twisted Float Shrug from the Fall '05 VK. I thought that project would drive me insane, so I re-purposed the yarn for this sweater. Overall, I'm happy with it, although the neckline is a little crazy. I will probably make this, or something very similar, again, and I plan on continuing with the raglan decreases for a few more rounds. I actually pinned my bra strap to the neckline and it stayed in place all day, though, so that's good news. I only wore it once because it kept falling off my shoulders.
I've also had a case of cast-on-itis. As a reward for finishing a couple of languishing projects, I cast on the Cobblestone Pullover in All Seasons Cotton for Joe's upcoming trip to Chicago. I also cast on for Juliet using stash Cotton-Ease (Jess, I'm going to be a good girl and not order any yarn from WEBS). Both projects hurt my hands, so I'll have to switch to my Wicked when things get tough.
Labels: hourglass