Exhibit A
In support of why I shouldn't wear drop sleeve sweaters. I present, my second Under the Hoodie: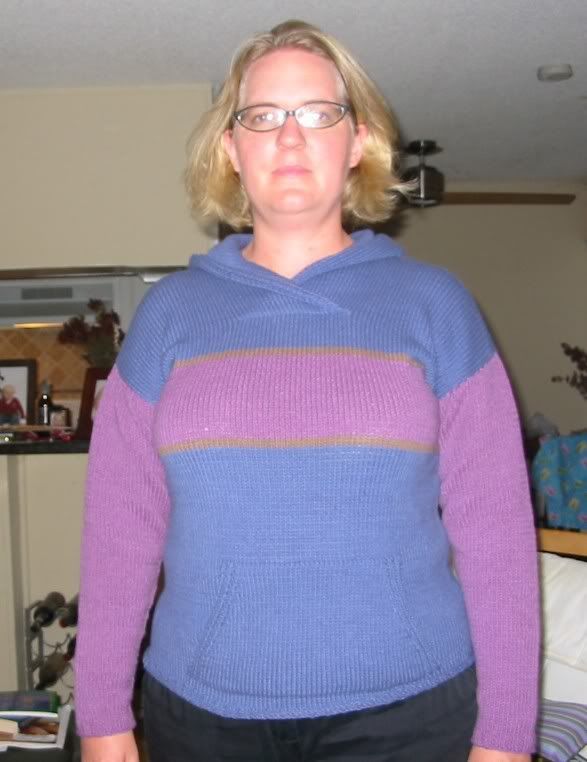 I think you all know the drill. The pattern is Under the Hoodie from Stitch n Bitch Nation, the yarn is a combination of the new Cotton-Ease (Violet and Taupe) and All Seasons Cotton (lost the ballband, so I'm not sure on the color). I made the 40" size, which for this pattern is the small. I used size 6 Addi Turbo needles.
I wouldn't necessarily call this pattern a success. I did learn something, though, so not all is lost. Basically, drop sleeve sweaters aren't the right style for me. After blocking, this sweater was about 5 inches larger than I normally make sweaters. However, I'm sure you can tell, it's too small for me. This is because the drop sleeve requries a lot of ease in the sweater in order to look right. Otherwise, the sleeves looks weird. It took me three times seaming the first sleeve to realize this. I wasn't doing it wrong - it just looks odd because the body of the sweater is too small.
However, it's not so tight that it's uncomfortable - it's just unflattering. I like wearing it, and I'll wear it to school tonight to see if it stretches out at all. I don't have high hopes, though, because I knit it fairly tightly.
Here's something funny, though - I got a good laugh out of it. Somehow, I got on an AARP mailing list, so I get some interesting mail. This one takes the cake, though: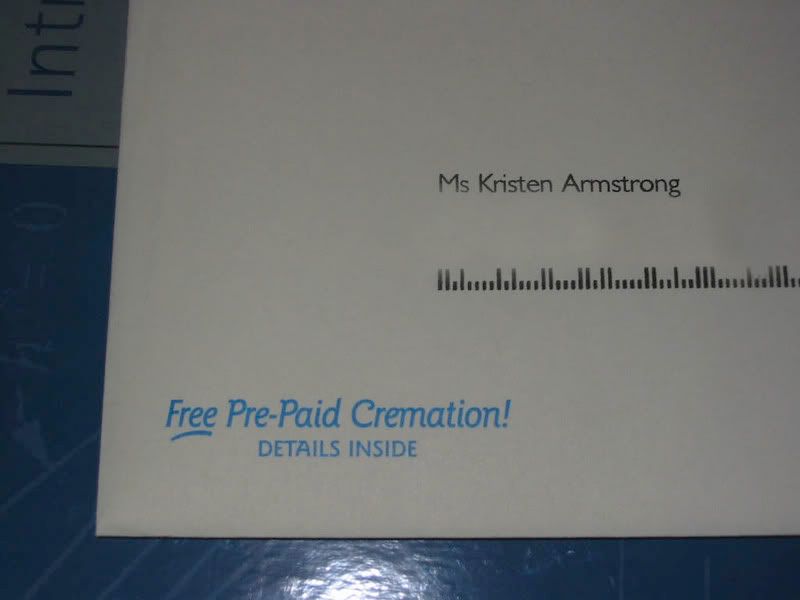 This is something I can't even begin to think about at this point! Joe says I got put on the list because I was born an adult, a reference to my early-onset maturity. I was one of those kids who liked hanging out with adults instead of people her own age. STILL!
Labels: under the hoodie