Purple Passion Thursday
Hi everybody! I hope you all had a nice Valentine's Day whatever you decided to do. We ended up having a nice meal at Old Venice, a quaint Italian restaurant in Point Loma. We don't often venture out that way since it seems like the end of the world (in a way, it is, I guess) but I'm always glad when we do. Since Phil's Bar-B-Q is going to be moving over there, I guess we'll be over there a lot more!
Anyway, on Tuesday, in the midst of lots of half-done projects and self-imposed Stitches deadlines, I decided to start a new project that I didn't have yarn for. Smart, right? I had this itch to start Matador from the Fall 2006 Knitscene. It's a little bolero knit up on size 13 needles, so I new it would be a quick, instant gratification-type project. I'm using Freedom Wool in a plum color: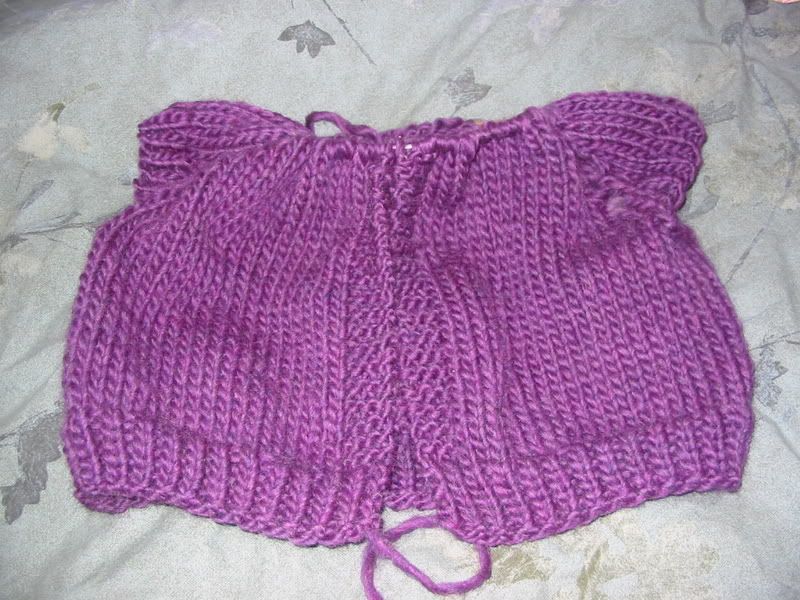 I ran out of yarn right at the end, so I'll need to get some tonight at Knit Salon and finish it up, but I think it will be a cute something to throw on over a T-shirt with jeans or a sleeveless dress. The yarn is really, really soft and lovely and I love the finished product so far.
Last week, I also ordered some GGH Java on closeout over at Little Knits. They had it for about 65% off, and I couldn't resist. For years, I have wanted to make the Apricot Jacket from Rebecca 27. Looks like it's going to happen this spring, and I'm thrilled. Here's the color I chose:
Now, I can't wait for spring knitting! But first, I have to finish my hourglass. Horror of horrors, though, I think I'm going to run out of yarn. Yikes! It's handpainted yarn, too. I'll be devastated if I do. I think that's why I haven't worked on it. I must soldier on, though.