Problem Solved!
Sometimes, the solution to a problem comes to you like the much cliched lighbulb turning on. I have been thinking about what to do for my second sweater for a couple of days now, and I had sort of an idea planned out. Then, Dis emailed me this morning saying that my Classic Silk yarn from WEBS had come in (we did a joint order a while back). I was sitting here thinking how it would be absolutely perfect to make Dune from Rowan 33 (it's kind of like Summer Tweed, but a totally different gauge and a TON softer). I'm planning on making a slew (how many is a slew?) of modifications, much like Fathon Harvill describes
here
. Isn't hers lovely? Then, I started thinking what a bummer it was that I couldn't start it for a while because I had these two other sweaters to make. Only then did it occur to me - what a perfect class project! Except for the lace detail, everything else is really plain, so customizing the shape will be an excellent exercise. The yarn is totally different (going from Aran to DK), too. Yay! Problem solved! Well, not all of the problems. I didn't order quite enough yarn :( So, I'm going to do a very small order from WEBS to get a couple of more balls. With shipping and paying full price, it should suck, but I'll get a fabulous sweater out of it.
Anyway, I have been doing knitting, in addition to all the mulling. Here's my progress on my first class project, the Rebecca lace sweater: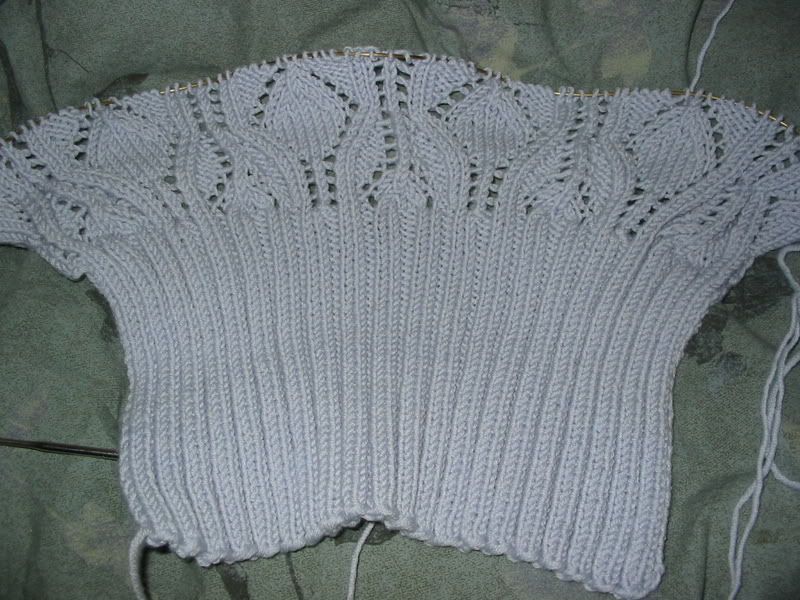 So far, so good, but I'm concerned about how small the rib section turned out (luckily, it's really stretchy) and how long the sweater will turn out to be.
I've also started a scarf for Joe - the
Architect's Scarf
from Greetings from the Knit Cafe.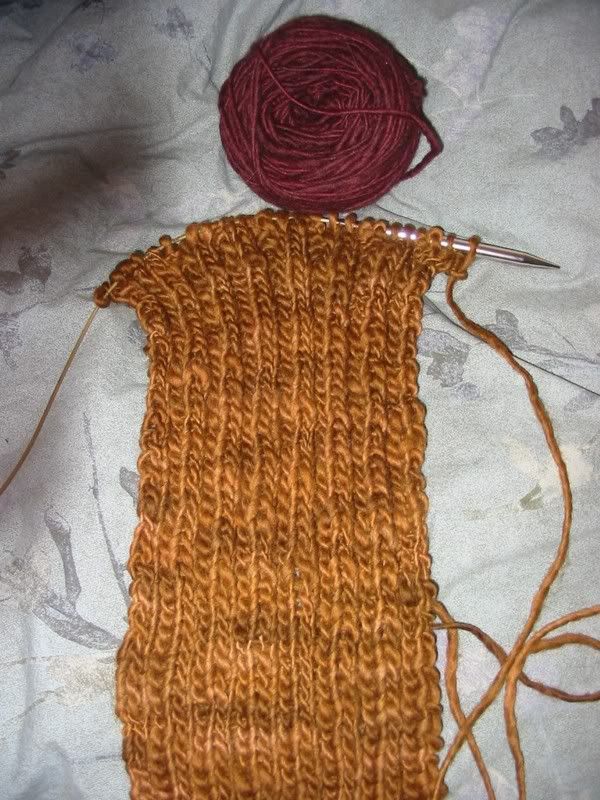 I thought I had the color scheme fully worked out, but it looks like the color I eliminated is actually perfect for the next stripe, so what do I know? I think the one color I insisted be in there because I've had it in my stash for ages is the one I'm going to end up NOT using. Figures, doesn't it?
Also Remembering Honey is almost done. It's seamed up, but still needs neck extensions and a good washing. It's very stiff at the moment. It seems to fit pretty well, though. The beret has been done forever, but I haven't blocked it yet because it's been too hot to wear it. All in good time.
Labels: architect's scarf, sweater design class