Another Quickie Blog Contest
I was kind of bored yesterday...I guess you could say I was procrastinating. I knew that if I stayed home all day, I would have to do homework, so instead, I decided to go "out". I wasn't sure exactly what I was going to do, but I took my 40% Joann's coupon with me. I ended up at Beverly Fabrics in Clairemont and looked at some really pretty fabrics. However, instead, I ended up using the coupon for Mason Dixon Knitting and 3 balls of Sugar and Cream to make the Ballband Dishcloth.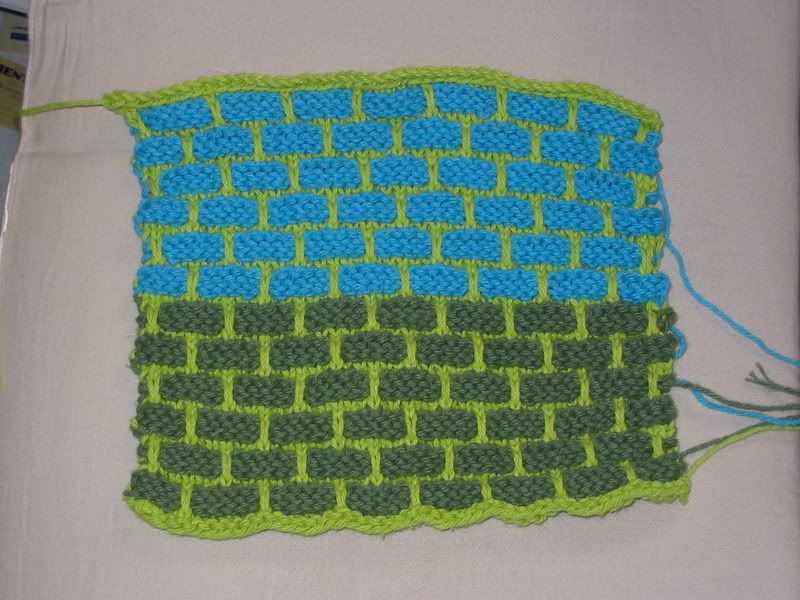 It was a really fun knit. It took me the entire evening, but it was very satisfying to be able to knit an entire FO in one sitting. I really like this pattern and will definitely be making another one at some point.
I also started the sweater that I'm making for Savannah for Christmas. I did some vascillating
on the pattern choice, but I think I have finally come up with something that's a good match for the yarn. I thought it was a good opportunity for a little blog contest. There are 4 balls of peachy/pink Lara from elann (100% mercerized cotton Dk weight yarn) OR two balls of Alpaca Cloud in a light blue (100% alpaca laceweight from Knitpicks) for the person (besides Cora, who already knows) who recognizes this children's pattern. Hint: It's being knit from the top down and it doesn't come from a book.