Gobblestone FO!
Just in time for my husband's flight to Chicago tonight, Gobblestone is off the needles, blocked and packed! J referred to it Gobblestone by accident, but I thought it was hilarious considering the pattern is called Cobblestone and Thanksgiving was my knitting deadline. Since apparently I'm more like a vampire in that I'm never home during daylight hours it would seem, I have crappy photos for you: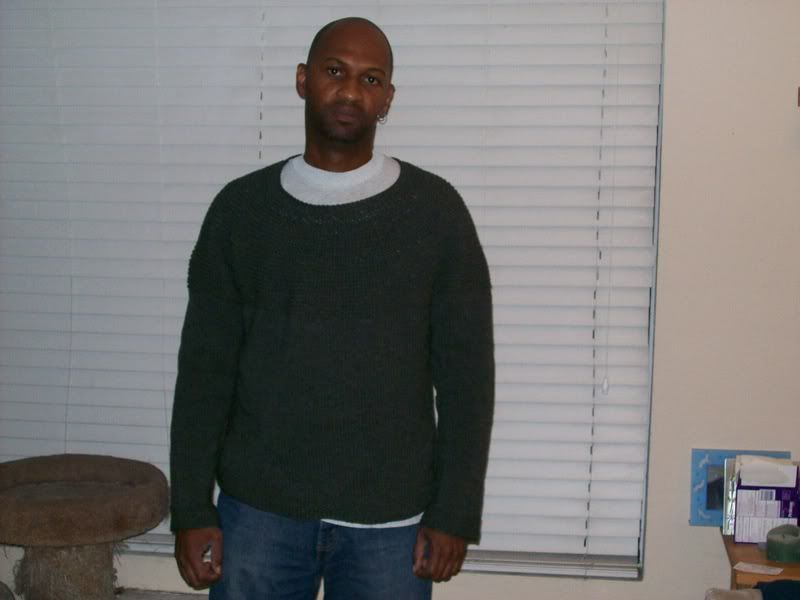 Wow, these photos really are dark - sorry about that.
Pattern:
Cobblestone Pullover
from Fall 2007 Interweave Knits, designed by Jared Flood
Yarn: Rowan All Seasons Cotton Melange in Military, not sure on the amount b/c I didn't keep track
Size: 43 1/2, which is about 3 1/2 inches of ease
Needles: Size 8 Inox Express circulars
Thoughts: This is a really great men's sweater pattern. I wish I could have made one in a wool tweed yarn, but it's just too warm for that here. However, I think the yarn I chose is a nice compromise. The pattern uses short rows in a clever way to create the shoulder/neck area.
I had a couple of other projects I was working on for his trip. Living in southern California, I rarely have the opportunity to knit scarves, hats and other winter accessories for any purpose other than the pleasure of knitting. So when I actually can knit things to keep people warm, I jump at the chance. As a result, I completed a Koolhaas hat and an Architect Scarf for his trip as well:
Pattern:
Koolhaas
hat from Interweave Holiday Knits 2007 (which is apparently already sold out - wow!)
Yarn: GGH Samson which is a wonderful 100% merino superwash yarn
Size: I chose to make the women's size for Joe because he has a rather small head. Bonus? It fits me, just in case (see below)!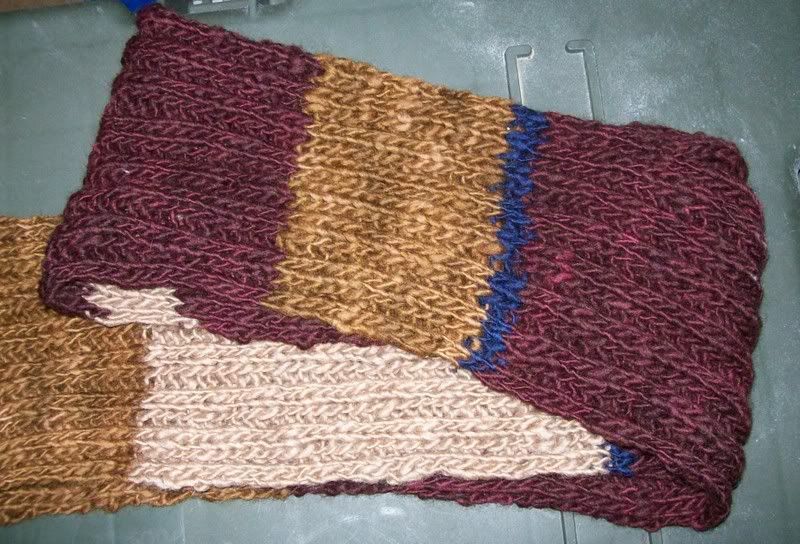 Pattern: Architect Scarf from Greetings from the Knit Cafe (I was the first person on Ravelry to make it, believe it or not)
Yarn: Manos del Uruguay, the best yarn on earth
Modifications: I made it narrower and shorter because I felt that long, wide scarves were more feminine. This scarf turned out so well that now I want one for me. Although the design is lovely, it's the yarn that really shines in this FO. The fabric is so cozy and squishy. I just had to buy two hanks of Manos yesterday to make a scarf for me!
Here he is wearing all three: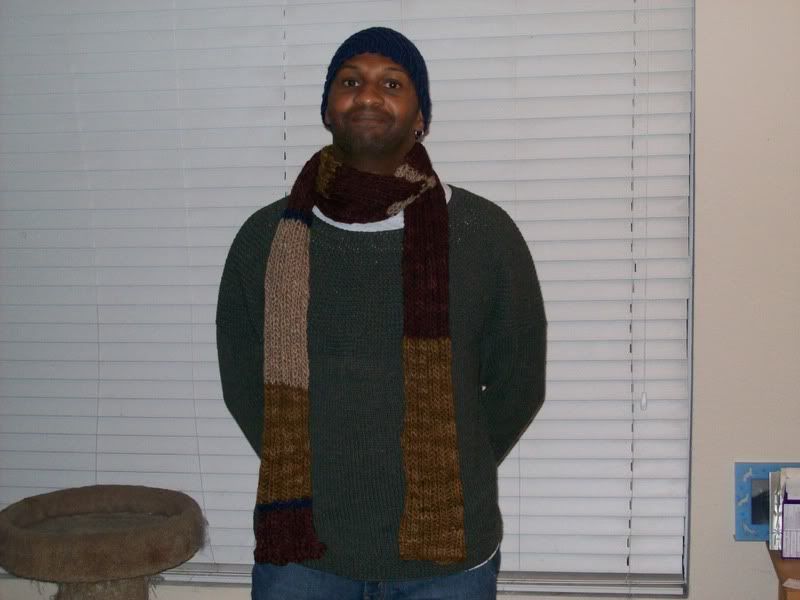 He swears he'll wear all of them, although he's commented that the scarf is "itchy" (although much less so after blocking), the hat is "feminine" and the sweater has "too much stuff" around the shoulders. Oh well, I may be inheriting some knitted garments when he gets back. I think the only thing he truly won't wear is the hat, which, to be perfectly honest, I wouldn't mind wearing myself!
Labels: cobblestone